What's not to love about a sexy single father who will do anything for their kid?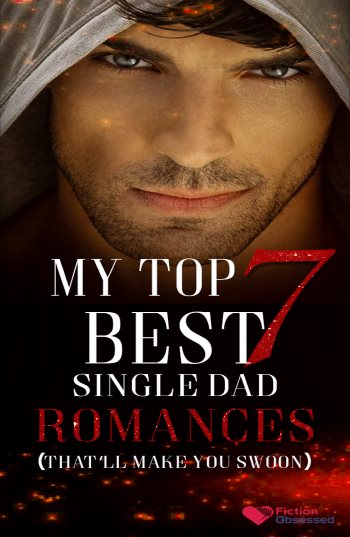 SaveSave
It's heartwarming while simultaneously hotter than hot.
Wouldn't you love to be the heroine that wins the heart of single dad and his adorable child? From nannies to waitresses to small town business owners, there's a match for all the daddies out there.
If you love devoted fathers, jealous exes, feisty heroines, and sizzling hot romance, you'll love these books.
See our newest picks for the month in the chart below:
Top 7 Best Single Dad Romances
Dirty Talker (Single Dads Club Book 2) by Piper Rayne
Dane is a playboy who likes his women blonde with no strings attached. He owns a bar in his small seaside town and is a single dad to one son. He's in a Single Dads Club, and he has the reputation of the "forever bachelor"–never intending to settle down with a woman.
Then, a new bakery opens across the street from his bar. Dane will find there's something sweeter than cupcakes that keeps him coming into that bakery.
It's owned by Ava who just recently got to town to start her dreams of owning a bakery. She's a smart and sexy brunette who is determined to run a successful bakery.
One regular and uneventful Monday night, Ava is drinking at Dane's bar. She leaves to go across the street to her closed bakery, a few drinks deep. When Dane closes his bar, he sees her outside and wants to make sure she's okay. One thing leads to another, and they go home together.
Dane finds that after their one night stand, he can't stop thinking about the outdoorsy brunette who seems to have it all together. She's not his type at all, so he is perplexed about how much she's on his mind. Dane is used to getting what he wants, and that means showing his softer side if that's what will make Ava fall for him.
Dane and Ava want to try to make it work as friends with benefits at first, but it seems there's an electric current between them that keeps them unable to be just friends. Will Dane be able to overcome his commitment issues and his fear of failure to find his happily ever after with Ava?
Read to find out, especially if you like:
romantic comedy
romance that takes place in a small town
and sexy possessive alphas with a softer side
My favorite part of this book is how fun it is! It's extremely well-written, with lots of comedic banter between the characters, as well as other fun characters in the small town that make the book come to life. It's a light-hearted and fun read that also unexpectedly will make you shed a tear or two.
There's great character development, particularly with Dane. It's such a pleasure to watch this snarky, rude (and sexy!) alpha show his softer side and demonstrate how much he's willing to put on the line to be a good father.
Also, the chemistry between Ava and Dane is intense. The dirty talk is hot, and the sex scenes are steamy. This book has a little bit of everything!
AMAZON >>
Single Dad Next Door: A Fake Marriage Romance by Penelope Bloom
There seems to be as many reasons for Sandra and Reid to be together as there are for them to not be together.
Sexy single dad Reid will inherit his grandfather's business–once he has a wife and two kids. Sandra is trying to successfully run a bakery in the new town she just moved to, where she lives next door to Reid.
Reid is good with his hands; he's a mechanic. And he's also Sandra's best friend's ex-husband. This single daddy is completely off-limits, but there's a magnetic pull between the baker and the mechanic that makes it hard to ignore the voices in their heads telling them to keep their hands off each other.
And then, there's Sandra's family. They are wealthy and money-obsessed, and Sandra told them a little white lie. Hoping to get them off of her back, she told them she's engaged to rich businessman Reid.
Now, the two have made a complicated situation even more complicated. Reid has a son, they both have businesses to focus on, and now they're both on board to have a "fake" relationship for the sake of personal advancement.
But what if it's not so fake? After time spent together and the heat between them rising, it becomes harder to sense what's real and what's fake. Sparks begin to fly, just as family and exes begin to get involved and possibly sabotage their blooming romance.
If you love:
fake engagements
stories with adorable kids as supporting characters
and quirky humor
then get your hands on a copy of this book!
The best part of this book is the characters! They're so fun and engage in plenty of witty banter. They are in quite a comedic situation–a "fake" engagement that grows into something much more. This leads to plenty of funny, heartwarming, and very sexy scenes.
Also, Reid's son, Roman, is simply a joy. He's adorable and hilarious–somewhat of a show-stealer!
AMAZON >>
The Nanny: A Single Dad Romance by Aria Ford
When Kira arrives to her first day at her new nanny job, she is greeted by her sexy new boss, Isaac. He's rude, standoffish, and fed up with the world. He's also incredibly gorgeous and fiercely protective of his little girl, Ivy.
This single dad has been through several nannies, his temper tending to scare off all prospects. Kira is determined to make her new position last, as she truly finds such joy in taking care of Ivy. Ivy is all of his Isaac's heart–and the only thing that can calm his nasty attitude.
When it comes to his daughter, Isaac is such a sweet and gentle man that Kira can barely recognize him. It's this side of him that gets Kira so hot she can barely handle it. Kira knows better than to get involved with her boss, but she also can't resist this ripped daddy with a gentle and patient fatherly side. After learning that his ex-wife has been giving Isaac hell, threatening to come for Ivy, Kira starts to understand Isaac a little bit better.
He's put up walls to protect his family, and it will take a lot of love and a lot of patience to break down these walls to see who Isaac really is. Kira seems to be well on her way, seeing softer sides of her boss and getting to know him intimately.
Will their budding relationship have a chance to flourish so that Isaac, Kira, and Ivy get to live together as a happily family? Or will custody battles and a ferocious ex-wife destroy this dream?
If you like:
romances between a nanny and her boss
fiercely protective heroes with an attitude
and billionaire alphas
then you'll absolutely adore this book.
I found myself deeply invested in every character in this book. There's Kira, a deeply compassionate, sweet, and energetic woman who truly cares for the little girl she's now responsible for. Then there's Isaac, who is more complex than he at first seems to be.
Isaac comes off as rude and a bit of jerk, which he definitely is at the beginning, but as Kira slowly begins to wear him down, we see that Isaac isn't a cruel monster, but is scared of losing the most important person in his life–his little Ivy.
There's also Isaac's ex-wife, Jade, who is an interesting character. At first when she's introduced, she's actually quite charming. That's all part of her deceptive ploy, as she's truly set on dragging out the custody battle between her and Isaac, determined to ruin his life.
Also, there's plenty of sexy scenes that are hot, hot, hot! You won't be able to put this book down.
For The Love Of English: A Sexy Single Dad Romance by A.M. Hargrove
Sheridan is a fiercely independent woman and a first grade teacher. She tries to avoid getting involved with her students' parents, especially when they're arrogant and rude like Beckley Bridges.
No matter how much she tries to avoid the sexy bastard, they're always brought together. This is not hugely surprising, considering Sheridan is Beck's daughter English's teacher.
English is a funny, quirky, intelligent little girl, but she sometimes says things that no first grader should say. Because of this, Beck finds himself meeting with Sheridan. 
There's definitely something between them that causes Sheridan to have butterflies in her stomach and naughty ideas in her head, but she has rules about getting involved with parents, even if they have a body like Beck's.
That changes though, when Sheridan might be the only hope for a nasty custody battle going down between Beck and English's mom, who left Beck with English and made no contact for the following six years, until now. Beck is desperate to keep custody of his little girl, the light of his life.
In order to look like a perfect family fit for English, he and Sheridan begin a fake romance to appear as a perfectly happy family unit. Are they really good at faking, or is something real developing between Beck and Sheridan?
Sheridan is a perfect mother to English, after all. Plus, Beck and her can't stop undressing each other with their eyes. Real feelings are starting to bubble up from under the surface. Will their fake family be able to last as a real one?
Read to find out, especially if you like:
arrogant, sexy alpha heroes with a soft side
and romance between a teacher and a single dad
I love that this book is an accurate portrayal of the ins and outs of a custody battle. The story highlights how much a parent will go through to protect their child, including what they're willing to sacrifice.
There are so many emotions in the pages of this story, from heartbreak to love and joy. English is a delightful character, too, and the things that come out of her mouth made me crack up. In fact, all of the book was filled with comedy, excitement, and even a few moments that made me shed a tear.
Plus, there's so much angst and steam in this book. Beck is a crazy hot man, and the sex between him and Sheridan will make you melt!
AMAZON >>
Single Dad's Waitress by Amelia Wilde
Val never planned on moving back to her hometown to become a waitress. But when she's dumped, it feels like the best plan of action to get away from her ex and the mess of their break up.
Single dad Ryder is visiting the small town for a summer away with his daughter, Minnie. When Ryder takes Minnie to the local dinner to get pancakes, he meets the hottie waitress Val who accidentally sprays whipped cream in his face.
She's embarrassed, but he's not too concerned–he's too distracted by her sexiness and can feel the instant attraction. She feels it, too, and their summer seems like it'll be hotter than expected.
Ryder doesn't want to get too involved with anyone. He's only visiting for the summer, plus he's been burned before, and the wound still feels too fresh.
Val also doesn't plan to get involved with a man again either, so soon after her messy breakup, but she can't help but want to get involved with this sexy dad in bed.
As fate would have it, she needs a place to rent for the summer, and Ryder knows a place right across the street from his place. They'll be close to each other, wanting to get even closer. The sexual tension between the two is off the charts and impossible to ignore.
What begins as a summer fling blooms into something deeper than they ever planned. Of course, complications ensue–Val's ex comes to try to win her back, and Ryder may need to leave town for work, cutting theirs summer short. Will Ryder and Val's summer fling be able to survive the heat?
If you like:
Laugh-out-loud romantic comedy
Romances on the sweeter side
and stories that take place in a small town
you need to read this book A.S.A.P.
This book was a blast from beginning to end. Right at the start, the two meet in an adorably silly way, when Val mistakenly sprays whipped cream all over Ryder when serving his daughter pancakes. The laughs don't stop there.
This book is jam-packed with light-hearted comedy and sarcasm from both the hero and the heroine. Val has a comedic tendency to lack a filter and blurt out whatever is on her mind.
Plus, the sexual attraction between the two is next level. There's so much angst and lust, you'll be squirming in your seat!
AMAZON >>
Played (Minnesota Caribou Book 2) by Colleen Charles
Reed is left high and dry after a devastating injury ruined his NHL career. The sexy ex-hockey star also lost nearly everything in a nasty divorce.
She took all of his money and left the country, leaving him to care for his little daughter, Jessica.
Now, they live in a run-down apartment and have a junky car that barely runs. Already having so much on his plate, Reed has to deal with a parent's worst nightmare. Jessica is extremely sick and needs pricey treatment at the Mayo Clinic.
Reed can barely afford his day-to-day life, let alone an expensive surgery, so Reed decides he'll do anything to save his daughter. She's his whole life, after all. He's a charming and attractive man who used to have swarms of groupies at his doorstep.
The ex-star enters a new job field to make ends meet and afford treatment for his daughter. He becomes an escort. His story just barely begins here.
He meets a woman who seems rather familiar but he can't quite figure out why he knows her.
Her name is Harper, and they were friends in high school. She was known as the "fat girl," but the past 12 years have been transformative. She's now a billionaire of a major tech company and has shed serious pounds. She used a fake name to hire Reed and looks completely unrecognizable.
Harper had a crush on Reed in high school before he began dating his future ex-wife and mother to his child. Reed and Harper's encounter is only supposed to be a transaction.
Reed finds himself infatuated with the woman who he doesn't recognize as his old high school friend. He can't stop thinking about her curves and her touch. There's demons from the past and secrets that threaten not just their relationship, but their livelihoods. When will Reed find out Harper's true identity? Will he be able to afford to save his child's life?
If you want to read about
a billionaire CEO heroine
an ex-sports star hero
and two high school friends reuniting as adults
then get yourself a copy of this book A.S.A.P.
There's so much to love about this book. There's several subplots that the author intricately and flawlessly weaves together. With so much going on, it's so impossible to put this book down before getting answers!
I'm obsessed with how this is an atypical hero/heroine dynamic. The heroine as a wealthy and successful CEO as opposed to the hero is a great twist on an old trope.
Plus, Reed is incredibly sexy, and it's so endearing to see the lengths he'd go to save his daughter's life.
Reed and Harper have an intense connection and explosive chemistry, leading to a story that will tug at your heart strings, make you laugh, and provide you with so much hotness your heart will race!
AMAZON >>
The Christmas Fix by Lucy Score
For Noah Yates, Christmas is usually the best time of the year. The sexy and single dad lives in Merry, Connecticut. The town thrives on Christmas and has a huge Christmas festival every year.
The Christmas festival means holiday joy, and for town manager, Noah, an economic boost thanks to an influx of tourists. Tragically this year, the town is left in shambles by a hurricane. The destruction is absolutely devastating. Noah is at a loss.
Enter Catalina King. This fiery hot reality star wants to reconstruct the town. She has the budget to do so and the camera crew to capture it all.
Noah is completely resistant to Cat and her crew. Last time she came to town, Merry had its first ever bar fight. Trouble seems to follow her, and Noah wants her out and the whole production done away with. The last thing he needs is someone capitalizing on his town's tragedy and exploiting it for views and profit.
Cat wants to make a huge reality special about Merry, which would revive the destroyed town and bring back some holiday spirit. Her biggest obstacle is Noah, who wants her out of his town. She's determined to prove to him that she can restore the "Merry" in Merry.
At first, they can't stand each other. They're nothing alike. She's a glamorous jet setter and television personality. He's a serious (and seriously sexy) single father who wants to live a low-key life with his daughter in their small town.
Will the two be able to overcome their differences to revive the town? Underneath the bickering, there's a spark between the two that might just turn into something fiery hot.
If you love:
stories about Christmas
confident and successful heroines
and stories about recovering from natural disaster
then this is the book for you!
This book is such a fun read. The town of Merry is exactly how its name suggests. The cast of characters in this story provide humor and strong support.
I love how Cat is determined to make things right in town despite Noah's stubbornness. They are both are headstrong, determined leaders, and they challenge each other in the best way possible.
Also, there's no denying that Noah's serious and stubborn ways are panty-dropping. He's a total hunk, she's gorgeous, and when they get together, it's hotter than hot. It's going to be hard to put this one down!
AMAZON >>
Which is your favorite?
Did you find yourself a new book boyfriend? Which daddy would you want to win over? Let me know your favorite book in the comments below!