Nothing is quite as empowering as a strong heroine fearlessly at the forefront of the plot.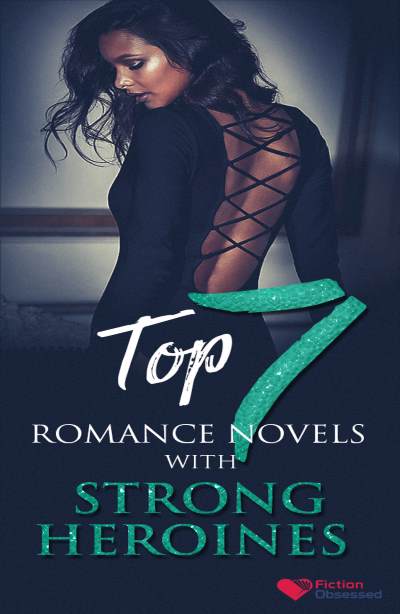 Save
If you like stories where determined and fierce women take charge and don't take crap from anyone, then you'll love the following books!
See our newest picks for the month below:
Kiss of Snow (Psy/Changeling Series Book 10) by Nalini Singh
Sienna Lauren, once part of the emotionless Psy, has joined the SnowDancer wolfpack. SnowDancer is just the opposite. They are Changelings, sentimental shifters who thrive on emotion.
When the Psy wage war on SnowDancer, Sienna has to show just how strong she is to keep SnowDancer safe. Showing her strength may be just what she needs to do to win the heart of Hawke, the alpha of SnowDancer.
Hawke sees her as a child, but Sienna knows that she is mature in ways he doesn't yet understand. She herself is an incredibly powerful weapon, and because of this must exercise great self-discipline.
When Hawke realizes Sienna is willing to fight for her pack and even risk her life, will he realize that she's not some child but the woman he is falling for?
If you like
sci-fi,
shifter romance,
and plenty of action,
then you'll want to read this book A.S.A.P.!
Not only is there the captivating story of Sienna and Hawke, but there are other subplots layered in, featuring a variety of interesting characters.
This story is totally whimsical, and the world it exists in is complex and fascinating. The romance element is deep, intense, and emotional. With sex scenes hot enough to melt a Kindle, this book will have you hooked from beginning to end.
AMAZON >>
Shadowfever: Fever Series Book 5 by Karen Marie Moning
MacKayla Lane is on the hunt to avenge her sister's murder. Twenty years after she and her family were banished from Ireland, she returns, determined to seek justice for her sister.
Mac will find out more than she ever expected to — not just about her sister's death, but about herself. Mac learns she's more than human, and is then thrust into a world of dark magic and evil.
She isn't quite sure who she can trust. To an extent, she has Jericho, her part-time lover, part-time enemy. She's never sure what to expect from him except for plenty of heat in the bedroom.
Mac's main goal becomes to seize an ancient book of dark magic from a powerful mythical king, but she'll have to fight her fair share of battles and overcome devastating obstacles on her way.
If you love
sci-fi,
stories of evil versus good,
and action-packed adventure,
then this is the book for you!
Mac is a total bada**. Her determination to avenge her sister is inspiring and a thrilling catalyst for the events that go down in this story.
Excellently written and filled with danger, suspense, and erotic bedroom scenes between Mac and Jericho, this book is nearly impossible to put down.
Blood Bound (Mercy Thompson, Book 2) by Patricia Biggs
Mercy Thompson is a tough as nails, auto-mechanic were-cayote.  When Mercy's vampire friend recruits her for a mission, the feisty heroine doesn't hesitate.
Mercy never could have expected the adventure ahead of her. She meets a new vampire who is also part demon. As werewolves and vampires alike search for the dangerous new vampire, Mercy embarks on an adventure that will test her strength and her heart.
Will Mercy survive the mission and make sense of her feelings for the two werewolves in her life?
Read to find out, especially if you like
urban fantasy,
shifters, vampires, demons,
and loads of action and adventure.
Mercy is a well fleshed out character who has many sides that the author wonderfully portrays in this story. She's just not a tough heroine, but also vulnerable at times.
The world that the author creates is fascinating, and she provides great description and background.
There's also a love story between Mercy and two werewolves woven into all the action that makes this story completely addicting through and through!
AMAZON >>
Angels' Blood (Guild Hunter Book 1) by Nalini Singh
Elena Deveraux, despite her family's wishes, is a vampire hunter. When archangel Raphael hires her for a job, her heart races with excitement.
He's as devastatingly gorgeous and charming as he is dangerous. They have intense chemistry that threatens to distract Elena from her task ahead.
This time, however, she isn't hunting a vampire. She's hunting an archangel gone bad. Amongst the killings, destruction, and dangerously seductive Raphael, will Elena be victorious?
If you like
vampire hunters,
occult romance,
and sci-fi fantasy,
then download your copy A.S.A.P.
The paranormal world created by the author is detailed, descriptive, and completely engrossing. She creates a stage for many fascinating stories, including Elena's. The sexual tension between Elena and Raphael is hot, hot, hot!
With the passion between our hero and heroine and the danger that surrounds them, this book will make your palms sweat and your heart race!
AMAZON >>
The Pilot and the Puck-Up by Pippa Grant
Joey "Fireball" Diamonte is a headstrong and hardworking pilot. She stands her ground and doesn't tolerate anyone's disrespect.
Her whole life she's worked incredibly hard to get to where she is as a pilot, leaving little time for men. That is, until she meets hockey star Zeus Berger, a towering brute who comes off quite rough and tough.
Zeus is a ladies' man who is used to one night stands, having yet to meet any woman who he feels can handle him. That all changes when he meets the bold and ballsy Joey, and the flame of their passion ignites. Will their fiery passion for each other turn into something real, or will their relationship burn out?
Read to find out, especially if you're into
romantic comedy,
sport romance,
and bad boys with big hearts.
This book is laugh-out-loud funny. It's such a joy to read, especially all of Joey's sassy comments.
Zeus seems like a jerk at first, but he reveals himself to be a lovable teddy bear.
Their chemistry is off the charts, and rooting for their happily ever after is inevitable. When Joey and Zeus get together, it's hotter than hot. The pilot and the hockey star are the couple we didn't know we needed!
AMAZON >>
Halfway to the Grave: A Night Huntress Novel by Jeanine Frost
Catherine Crawfield is half-human, half-vampire, and entirely motivated to hunt down her undead father. She'll make him pay for destroying her mother's life.
When Catherine is captured by vampire bounty hunter named Bones, they make a deal. Bones will train Catherine to help her hone her skills and will help track down her father.
As Catherine and Bones get to know each other, they find themselves having feelings for each other they never expected. There's explosive chemistry between them as the heat turns all the way up.
But what happens when the hunters become the hunted and a group of killers comes after Bones and Cat?  Cat will have to make choices that will change the course of her life forever.
If you like
urban fantasy,
vampire romance,
and action and adventure,
then do yourself a favor and read this book today!
Cat is a beautifully written and multidimensional character. As the story progresses, we learn more about her, her family, and the strength she has within.
This kicka** heroine is feisty and fierce, and seeing her fall for Bones is absolutely swoon-worthy.
In the midst of all the danger and action, Cat and Bones have steamy scenes that will surely melt your Kindle!
AMAZON >>
Magic Bites (Kate Daniels, Book 1) by Iona Andrews
Once, there was a time when magic rose and replaced technology, but when technology returns, there's a slew of paranormal and magic problems left to deal with.
Enter Kate Daniels. The headstrong mercenary earns her living by cleaning up these messes, until she finds out a loved one was murdered. Kate makes it her mission to find justice, thrusting herself into a dangerous world with warring magical factions.
There's The Masters of the Dead with the ability to control vampires and The Pack, a group of shifters. In addition to the pressures to solve the mystery of a number of killings, there's sparks flying between her and Curran, the Beast Lord.
If you like
magic and fantasy,
mysteries,
and romance featuring shifters and vampires,
then you'll love this exciting book!
The story has all the elements of a great fantasy led by a strong female. Even though she and Curran push each other, there's definite chemistry between them.
The story is an exciting mystery and hard to put down once you're into it. There are a lot of secrets that Kate unfolds, making this book more interesting with every turn of the page.
Which is your favorite?
Which romance did you enjoy the most? Did you discover a new favorite heroine? Comment your thoughts below!