Disclosure: As Amazon Associates we earn from qualifying purchases. We and also receive small commissions from other online vendors that we may recommend on our blog posts.
UPDATE 10/26/2019: Not much has changed in 2019 so we still stand by the same opinions we had in our original review. If you're a fan of independent authors and voraciously consuming new content then Kindle Unlimited is a great option to try out.
Kindle Unlimited is Amazon's subscription service where users who sign up have access to "unlimited" qualifying e-books from their marketplace at the cost of a monthly fee.
For avid readers, this means having over a million books at your finger-tips.
But of course, there are some downsides and limitations.
Trying to figure out whether getting Kindle Unlimited is worth it for you?
Here's my full review…
Quick Summary
Don't have time to read the entire review? Here a summary…
First the major downside: The one downside to Kindle Unlimited is that you won't find every single book on there, especially those from nationally-renowned authors.
That doesn't mean that there are zero big names on there — it really just depends what you're into.
As books tend to age, they seem to be more likely to appear on Kindle Unlimited.
For example, the Hunger Games and Harry Potter Series are on there now.
But…If you read on a regular basis and love independent authors  — there's a good chance that you'll love Kindle Unlimited.
This is especially true for the romance genre, there's just so much to choose from.
You don't even need to own a Kindle. You can download a Kindle reading app on almost any device.
There's also a free audio-book option on many Kindle Unlimited Books (although there are some you have to pay for).
Given the fact that Kindle Unlimited offers a FREE 30 day trial (at the time of writing this article), I think it's worth giving it a try.
Click here to learn more about starting a FREE trial or keep reading for the full review.
Pros and Cons of Kindle Unlimited
What I Love About KU
Here are the three main things I love about Kindle Unlimited…
Flexibility: I can borrow and read as many books as I want per month (although my device can only hold 10 at a time). I don't have to worry about getting a book I don't like. If I'm not feeling it, I'll just put it back.
Independent Authors: Many independent authors without huge publishing budgets use Kindle Unlimited as a means of getting their book out there. These books become "exclusive" to the Kindle platform. I love having unlimited access to books that I won't find anywhere else.
Any Device: Even though I have a Kindle, I've found that I use my iPhone for most things nowadays. Since Kindle Unlimited can be used on almost any device, it's turned my phone into a huge library of books that I can read anywhere.
Only Downside I've Found
The one downside to Kindle Unlimited is that you won't find every book in the universe are there.
If there's a new release from a very prominent author, it might not be available to borrow from the Kindle Unlimited library.
But what I've seen is that many books come onto the platform after they've been out for a while.
For example, Harry Potter (which is normally priced for around pretty high digitally) is currently on Kindle Unlimited.
How Much is Kindle Unlimited?
The prices of Kindle Unlimited can vary depending on the package that you get. There are multiple different pricing packages depending on how many months you sign up for.
But it's always a good idea to start with the Free Trial…
Before picking a package, it's important to consider how many books you read month and how much those books costs. Well-known author books tend to be priced higher, but some might also have Kindle Unlimited options.
On the flip side, independent authors tend to price their books cheaper. Sometimes, this means that buying Kindle Unlimited might not be worth it if you read a lot of independently authored books.
I'd recommend taking a look at the past 5-10 books you purchased and how much they cost before picking your Kindle Unlimited Package. If you know you're a regular reader, it may make sense to get one of the bulk packages rather than going month to month.
But, there are also other things to consider including access to popular magazines and Audible Narration.
More on those in the next sections…
Kindle Unlimited Audible Narration
While Audible is a separate service, a Kindle Unlimited comes with a wide selection of books that include a complimentary audio-book companion.
This is indicated by the little headphones icon on the book's Kindle Unlimited buying option. Here's what it looks like when you're on Desktop Amazon…
Amazon also makes it easy to browse which books have this option.
Certainly not all Kindle Unlimited books have this, though.
There are some that you have to pay extra for to get the Audio Version even if you have Kindle Unlimited.
Access to Magazines
I don't read many magazines, but I recently learned that you can get access to a bunch of good ones by being part of Kindle Unlimited.
These magazines include:
Coastal Living
Popular Science
Good Housekeeping
Entrepreneur
and more
It's a nice little perk to have if you're traveling a lot or just want something light to read.
Read Also:Best Tablet for Reading Newspapers and Magazines – Top 11 Options
Do You Need a Kindle Device?
One of the cool things about Kindle Unlimited is that Amazon doesn't force you into buying a Kindle device to enjoy it.
I was quite surprised to learn just how many devices you can get a Kindle Reading App on. If you can't read the screenshot above, here's the list I found on Amazon…
iPad, IPhone and iPod Touch
Android Phone
Android Tablet
PC
Windows 8
Mac
Kindle Cloud Reader
Windows Phone
Samsung
Blackberry 10
Blackberry
WebOS
Pretty impressive.
How to Search for Kindle Unlimited Titles
Once you're a KU member, it's pretty easy to access the book selection you'll have access to.
If you're on the Amazon website, you can browse the titles on there…
This is how it looks on the desktop version of my computer on Amazon…
If you're on a Kindle Device or in the Kindle Reading App there will be a link or button you can press to filter for Kindle Unlimited books.
Here's what it looks like on the Kindle App on my iPhone…
If I search something, I can use the "filter" button on the top right to see ONLY Kindle Unlimited books in the search result as seen below…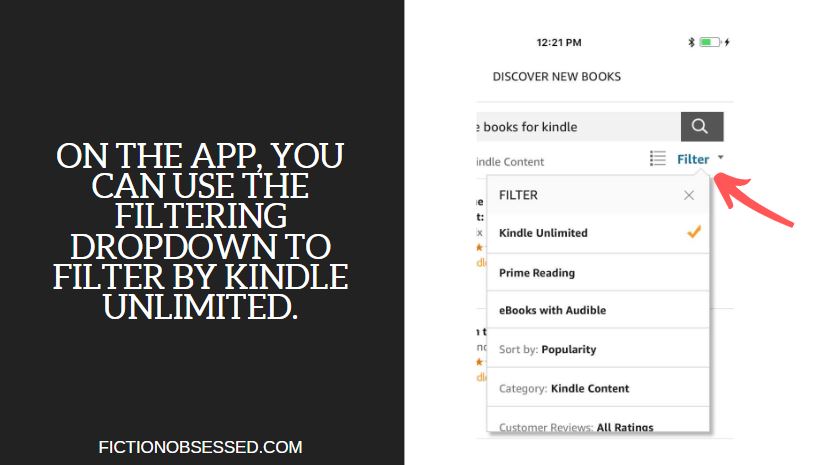 It's really easy!
How Many Books Can You Hold At Once?
One limiting factor of Kindle Unlimited is that you can only "hold" 10 books at once.
While I personally don't think this limitation is that significant, I know some readers who like read more than 10 books at a given time.
If your Kindle Unlimited Library is full and you want to return a book, it's as easy as this…
Use the menu to navigate to your Kindle Unlimited Library.
Use the "Actions" button next to the book you want to get rid of and press return.
Then you can borrow another Kindle Unlimited book.
This is a pain if you don't have access to Wi-Fi (such as on a long flight), but I don't find it to be that big of a deal.
Other Book Subscriptions to Consider
While it's armed with an impressive library, Kindle Unlimited is certainly not the only book subscription service out there.
Here are others that you can also check out.
Scribd
Scribd is known as the "Netflix of Books" for a good reason. 
They have over one million books in their library, including almost all the popular books you already love.
Also, Scribd has over 10,000 comic books, graphic novels, and other types of material, such as audiobooks, magazines, sheet music, and more.
While there is no way for independent authors to publish their books directly on Scribd, they are partnered with PublishDrive.
This way, Scribd gives its readers a wide selection of self-published books.
What you can upload to Scribd, though, are your own papers and documents.
This is great for students and researchers who want to share their work while keeping them protected.
To start your unlimited reading journey on Scribd, you can pay a low monthly subscription fee of $8.99. 
Still unsure whether their library is enough for your needs?
You'll be glad to know that they also offer a free trial of two months.
Bookmate
If you're a book lover who enjoys a portable digital library instead of lugging around physical books, Bookmate might be an ideal option.
It is a mobile reading application with over 12 million amazing books, and more than 50,000 of them you can download for free. 
They mostly have mainstream books written by popular authors in their library. 
However, don't worry because you can easily upload your other books into Bookmate as long as they are in an EPBU or FB2 format.
They have different kinds of books on their platform, including biographies, fantasy, and, of course, romance. 
Aside from that, they also have versions of these novels translated into 15 other languages.
The available translations make Bookmate a great subscription service for those currently learning a new language.
Nevertheless, it also works great if you simply want your favorite books translated into your native language.
Comic book lovers are welcome too.
They have an amazing collection of comics and graphic novels.
Finally, they also have an audiobook library, just in case you're looking for an audiobook version of your favorites.
Just like their books, you can also upload your audiobooks into their platform so you can easily access them whenever you want.
If you want to subscribe to Bookmate, you have two options – you can either pay a $9.99 monthly fee or a $99.96 annual fee. 
They also offer a seven-day free trial option if you want to sample their library and services first.
24Symbols
Finally, if you're the type of reader who gets more motivation from a community of other readers, you might want to consider joining 24Symbols.
Think of it as a hybrid between Kindle Unlimited and Goodreads. 
Upon signing up, you'll be able to create your own profile and access over a million books, most of them by famous and best-selling authors.
In addition, 24Symbols allows its users to make reading lists, share them with other users, and link their accounts with Facebook.
Since they're cloud-based, you won't need to download your books anymore.
With this built-in feature, 24Symbols allows you to read your selections on any device without sacrificing precious storage.
On the other hand, they also offer an offline reading option just in case you won't have access to the internet.
This feature is very convenient when you're sitting on long flights and when you're out on vacation in a low-signal zone.
If you want to enjoy unlimited reading from 24Symbols, you will have to pay their $8.99 monthly subscription fee.
Sadly, they don't have a free trial available.
Final Verdict on Kindle Unlimited
I can't tell you for certain whether Kindle Unlimited is going to be worth the cost for you, but I personally think it's a great deal.
All you need to do is read a few higher priced books per month to make it pay for itself (at it's current monthly cost).
You also don't have to worry about "buying" books that you don't end up liking.
You have the option to quit reading books you borrow at any point and then borrow new ones.
Ready to check it out?
Click here to learn about trying it FREE for 30 days…
Summary
Reviewer
Review Date
Reviewed Item
Author Rating