So, I'll admit it: I like men who tell me what to do in the bedroom.
If a romance novel has a bossy bad boy pursuing a feisty heroine, I'm hooked.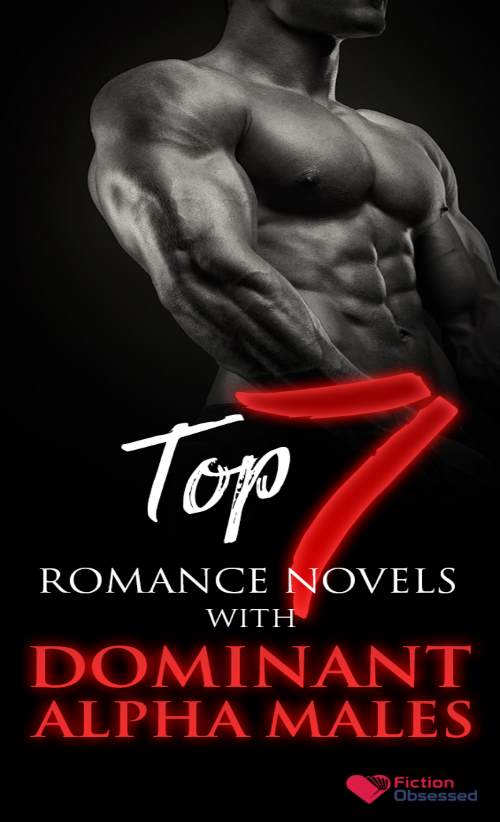 SaveSave
If you're into alpha heroes who are dominant and possessive but sexy and sometimes sweet, you'll love the following romance novels.
See our newest picks for the month in the chart below:
Our 7 Best Romance Novels with Dominant Alpha Males
Deliverance (NYC Doms Book 1) by Jane Henry
Tobias Creed likes his women obedient and submissive. He owns a BDSM club, where one evening, he catches a woman causing trouble in the parking lot.
Her name is Diana McAdams, and she's the feisty and confident mother of a son with special needs. The night she meets Tobias, she is angry and drunk and keying a car in the parking lot of his club. She thought it belonged to the man she recently found out was cheating on her.
Diana, however, was mistaken and ends up keying Tobias's car. Now, she owes him, and she'll have to pay him back one way or the other.
There's a palpable sexual energy between Tobias and Diana, and their whirlwind of a relationship begins, but both Tobias and Diana are used to being in control.
Diana has had to be tough for so long, raising her son, Chad, on her own with no help from his garbage father. Will Tobias be able to make her submit? It definitely helps that when he meets Chad, he immediately proves to be a positive influence.
It's not all fun and games though, as there's serious drama at Tobias' club. One of the women who works at his club was brutally murdered, and they believe the attacker to be someone involved with the nightclub themselves. Will Diana and Tobias' sexy new relationship be able to survive the drama, secrets, and mysteries?
If you like:
feisty confident heroines,
murder mysteries,
and elements of BDSM,
then this book has everything you need.
This book is fantastically written with in-depth characters and beautiful relationships between them. Diana is a wonderful heroine, showing impeccable strength as she raises her special needs son on her own.
It absolutely melted my heart to see the way Chad and Tobias welcome each other into their lives and develop a special relationship of mutual respect.
While Tobias is a sexy dom, Diana is also used to being in control. Seeing the power shift between them throughout the story not only helps move the plot forward but is also incredibly sexy.
Tobias and Diana are explosive in the bedroom, as Diana will learn to submit to the commanding Tobias. If you want a book that'll speed up your heart rate with steamy, naughty bedroom scenes, then download your copy today.
AMAZON >>
Blackmailed by the Beast by Georgia Le Carre
Chelsea has been on the run from Thorne Blackmore for two years. Thorne Blackmore, the rich tech company CEO who is decades ahead with AI technology, was a man known for his cruel and harsh ways.
While working as the company accountant, Chelsea made the risky choice to steal from Thorne and has been evading him for years since. Now, her past has caught up with her, and Chelsea will be held responsible for her theft and lies.
Thorne does not want to turn her into the police, however. He has different plans in mind for the sly little fox. Thorne will have Chelsea repay him by keeping her as his pet for three months in his mansion. She will be his sex slave and fulfill his every desire. She promises him she can pay him back with more time, but he doesn't want the money; he wants her as his property.
Chelsea's favorite fairy tale had always been Beauty and the Beast, and she fantasized about taming the beast and transforming him into man with a kiss. She didn't expect to find herself in such a similar situation, and she especially didn't expect to find herself falling for the beast, despite his harsh ways and cruel manner.
As Chelsea and Throne learn more about each other, and secrets, lies, and twists are revealed, will their new relationship be able to survive?
If you like
dark sexy romance,
action and suspense,
and feisty heroines,
then you won't be able to put this book down.
I love how the story is told. It flows smoothly, is well-written, and delves into the backgrounds of the characters. There's more to Chelsea than meets the eye, and we learn more about this dynamic character through flashbacks.
This book is a twist on the classic tale of a woman falling for her captor.  I love that Chelsea doesn't want to change Thorne into a sweet prince, but despite her better judgement, begins to fall for him just as he is: intense, harsh, and brooding. If you're into dark romance with elements of BDSM and no shortage of naughty, explicit scenes, then you'll love this book as much as I did!
AMAZON >>
My Brother's Friend, the Dom by Nikki Chase
When Luca met Sarah Ellis, she was 18 years old. She wanted him to tattoo her, so he did. There was intense sexual chemistry between the two, and their tattoo session heated up quickly. Sarah was about to leave for college, so this would be a one-night stand. A feisty, hot, passionate, sexy one night stand at that.
A chance encounter introduced Luca to Peter, Sarah's older brother. They hit it off quickly, and Peter made Luca promise to watch over and protect Sarah. It's now five years later when Lucas sees Sarah for the first time since she was 18, and since then, Peter has passed.
She's fully a woman — curvy and gorgeous and independent. Luca knows he should keep the promise he made to his best friend before his passing, but gives into temptation.
However, Luca swears it's in the name of Sarah's protection. He sees that she posted on a kinky website looking for a dom. Deciding he would protect her from all other prospects, he responds to the ad, promising her pain and pleasure. He tells himself it's just so that he can get to her, convince her to live with him temporarily, and protect her from the world.
But he can't deny his feelings of lust. He wants so badly to dominate her and give her what she wants. Luca knows he can't resist much longer. Luca has secrets himself that could threaten their relationship before it truly even beings. Will Luca have Sarah all to himself?
If you like
forbidden romance,
and feisty, curvy heroines,
then download your copy A.S.A.P.!
I'm a sucker for a forbidden romance. It's sexy, it's naughty, and it's suspenseful. Luca has a lot of internal conflict about pursuing Sarah. As much as he tries to justify his actions as protection, there comes a point where he realizes he can't deny there's feelings that have been there for years.
Sarah is also a great character. Both she and Luca have dark desires that can no longer be repressed. Although the death of Peter is tragic, it is the catalyst for the exciting and sexy story that takes place.
There's hot hot hot elements of BDSM including knife-play and tying to chairs. This steamy book will have your heart racing and your palms sweating.
Possessive Daddy: A Dark Romance by B.B. Hamel
Connor is given the opportunity to get legally married for a payout of a million dollars by driven career woman, Julia. She's the CEO of her father's company and wants to own it, but needs to be married first.
Connor is not into the idea until he meets Julia's daughter, Sydney, and his world is rocked. She's beautiful and sexy, and Connor can't keep his eyes off her, but she's completely forbidden.
His marriage is a business transaction, and he needs to keep it professional. Taking Sydney as his own could ruin everything, but his lust proves to be stronger than his willpower. Knowing how it looks to the outside world, their relationship risks so much. It's naughty, sexy, and dangerous — just how Connor likes it.
There's also danger afoot in the form of Julia's brother. Connor has to protect both Julia and Sydney from their crazy family. Will Connor and Sydney's taboo yet explosive relationship be able to prevail?
If you like
stepfather/stepdaughter romance,
plenty of dirty talk,
and romantic suspense,
then this book is for you.
This story certainly taps into my naughty side! On the surface, it maybe seems wrong that a stepfather would lust for his stepdaughter so badly, but this book sets it up in a way that makes sense. The marriage is pretend, so the father/daughter relationship isn't real, either.
Although still taboo, it's hot to see Connor go for Sydney, desperately wanting to make her his. He's possessive in the sexiest way. This naughty romance was hot and heavy, especially the dirty talk.
Liar by Zahra Girard
Luca is the epitome of a bad boy. He's tough, and his line of work involving the mafia is gritty and dark. Before his brother passed, he told him to get away from the business.
Wanting to honor his brother and reinvent himself, Luca moves to a small town in California, where he buys a boxing gym, determined to turn over a new leaf and leave his bad boy rep behind.
Enter Stephanie. She works as a nurse, and one day, her father calls and tells her he's been an accident and needs her help. Turns out, he's in deep trouble with the mafia, and now Stephanie is, too. There's violent threats coming from every corner, so Stephanie decides she wants to be physically strong enough to defend herself.
That's when she meets Luca at his boxing gym. He decides to train her, but their connection only heats up from there. Stephanie and Luca can't resist each other, and they begin a relationship more complicated than they ever could've imagined.
Both Luca and Stephanie have their fair share of secrets, some even dangerous. Will the secrets and danger that surround them be the end of their relationship, or will they get a happily ever after?
If you like
romance involving the mafia,
dark romance,
and bad boy heroes,
then do yourself a favor and read this book today.
I am so into Luca! He's so incredibly sexy, from his rock hard abs to his huge heart. He's a complete dreamboat.
He's the perfect protector for Stephanie, who has found herself in quite a bit of trouble. I appreciate that Stephanie isn't helpless by any means. It's because she wants to be able to fight and defend herself that she meets Luca.
This plot is full of danger, suspense, and mystery, which makes the book a page-turner. Add in the electricity between Stephanie and Luca, and what we have is an irresistibly sexy, dark, and sometimes humorous story that is impossible to put down.
AMAZON >>
Punished – A Dark Billionaire Romance by Penelope Bloom
Emmaline is an entrepreneur, and when her small Etsy business booms into a full-time job, she goes to the bank to withdraw her inheritance. She's expecting hundreds of thousands of dollars so that she can pay off her debts. When she gets to the bank, however, she learns that her father emptied the account, leaving her with nothing.
Emmaline's friend lets her know about a part-time gig at a BDSM club that could have her bringing in thousands of dollars a night, so she decides to go for it.
Meet Logan. He's the owner of the BDSM club, a billionaire, and hotter than hot. He throws a Valentine's Day party, where he meets Emmaline. He doesn't know she's about to be one of his employees, and he can't take his eyes off her. He thinks about all the things he wants to do to her. The next day at the club, they meet again.
Because he's masked like all the club patrons, Emmaline does not recognize him. He takes her to his private room where they play a bit. After that, he's completely infatuated.
He can't get his mind off of her. He becomes completely smitten and begins to help Emmaline deal with her mom's abusive boyfriend amongst other drama with his ex-wife and the club.
Emmaline is wooed by the billionaire, never expecting this is where her new part-time job would take her. But, as always, there's the issue of trust.
She wants to believe that Logan is her protector and that she can trust him to keep her safe, but it's not that easy. Will the hero and heroine be able to survive the drama that threatens their relationship and their personal lives?
If you like
billionaire CEO heroes,
light BDSM,
and romantic suspense,
then this is the book you have to read.
The characters in this book are part of what makes it such a compelling read. They are well-defined and believable, making their story even more addicting. There's a lot to this plot, which I appreciate because it makes it that much harder to put down.
While there's the sexy and exciting relationship forming between Emmaline and Logan, there's also drama regarding Logan's ex-wife and the terrible situation with Emmaline's mother and her abuser. Each character has a background story that slowly seeps into the pages and gives context to the events of the story.
I love the dark and mysterious vibe of this book. The first sexual encounter between Emmaline and Logan is naughty without being over-the-top. As the book progresses, I found myself rooting for Emmaline and Logan both as a couple and as people dealing with family drama and business drama.
Logan is incredibly sexy and dominant, but he also shows a sweeter side. I loved getting lost in this book, and I'm sure you will too!
AMAZON >>
Tormentor Mine: A Dark Romance by Anna Zaires
Peter is a Russian assassin out for vengeance. There was a terrible incident in the village that was once his home that left his wife and child dead. Now, he has a list of all those he holds responsible as he relentlessly goes through it, knocking off names one by one.
He's cruel, he's merciless, and the last thing he expects is to be blindsided by a beautiful OBGYN named Sara. On his mission to annihilate anyone he believes to be responsible for his family's death, he meets the woman that will change everything. It's her husband's name on that list, and he ends up meeting Sara in hopes of extracting information from her.
What happens from there is an addictive whirlwind of lust, passion, drama, and danger. The dynamic between Sara and Peter is intense and exciting. He's stalking her, and she's as terrified of him as she is attracted to him.
Peter wants Sara badly and is determined to break her and make her his. While Sara is conflicted about the scary man that she can't just resist, she refuses to be broken by fear.
Will Sara and Peter be just what each other needs, or will they destroy each other and their chance at a happily ever after?
If you like
dark romance,
action,
and psychologically thrilling adventure,
then get yourself this book right now!
There's so much to say about this book. It's completely mesmerizing, and it's as wild and unpredictable as its hero, Peter. I absolutely adore Peter, even if I am a little bit afraid of him; that's what's so sexy about him. He's a complicated hero who has been through his fair share of hardship. There's a lot to Peter besides being a terrifying assassin.
There's so much push and pull between these two, I couldn't put the book down until I knew their fate! It's incredibly sexy and naughty, so be prepared to have full body chills and tingles down your spine!
AMAZON >>
Which is your favorite?​
There's so many sexy alphas to fantasize about. They're dominant, possessive, intense, and hotter than hot. Did any of our heroes get you all worked up? Comment below, and let me know your favorite book!