What's not to love about a sexy billionaire?
They're able to give a woman everything she wants in the bedroom and in financial security.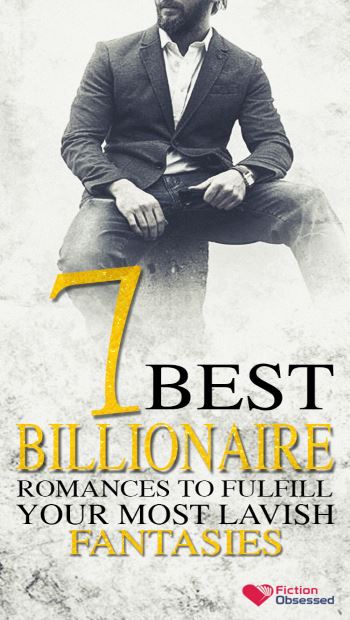 SaveSave
From the nanny to the high school crush to the employee, women from all walks of life get their shots at love with an affluent alpha in these stories.
If you're into billionaire romances featuring action and suspense, then you'll want to scoop up these books right now.
See our newest picks for the month in the chart below:
These are my all time best picks for the best billionaire romance novels:
The Billionaire's Secret Heart by Ivy Layne
Josephine is a self-proclaimed nerd. She'd much rather be in a pair of sweatpants than heels and a dress. She's a computer science grad student who agrees to go on a blind date with her professor's relative. The date is miserable.
He's a total loser, and Josephine just wants to escape her nightmare of a blind date. As fate would have it, however, this night would be the beginning of the rest of her life. She locks eyes with a sexy stranger, and there's a jolt of electricity between them. Their attraction to each other is instant.
His name is Holden, and he's the club owner–and a billionaire. Holden can have any and every woman he wants. There's never a shortage of beautiful and available women around him. They tend to throw themselves at him. He never meant to steal Josephine away from her date, but that's what was in the cards for them that fateful night.
Their chemistry is off the charts, leading Josephine to do something she's never done before. The two leave together and have a sexy, passionate one-night stand. The next morning, Josephine's nerves get to her and she sneaks away, ghosting Holden. Holden is a man who gets what he wants, and makes an effort to track down Josephine.
Their instant attraction has the potential to flourish into a far more serious relationship, but they'll have to fight off jealous exes and feelings of self-doubt.
If you like:
Nerd heroines
Shorter novellas
…you'll want to get yourself a copy of this book!
I love the excitement of this book. It's really a fun read, filled with smart characters taking chances for love. Right from the start, this story is addicting. Beginning their relationship with a naughty one-night stand, something that Josephine has never done, sets up the book for a whirlwind of adventure and plenty of hotness.
I love Josephine because she's a self-proclaimed "nerd" who is focused on her studies and would rather have a laid back night in than a wild night out. She's super cute and totally relatable!
AMAZON >>
I (Pretend) Do: A Billionaire Fake Fiance Romance by Eva Luxe
What could be more devastating than a broken engagement? For Amelia and Brent, each dumped by their respective spouses-to-be, this heartbreak would lead to something greater than they could have imagined.
After being set up by their friends, they have a surprisingly pleasant date and a strong connection. In fact, their attraction to each other is so intense they can't even make it to the bedroom and have a romp in the alley during their date. It's sexy, hot, and as far as they know, a one-time thing. Or, so they thought.
Sexy billionaire Brent and spunky, curvy Amelia do run into each other again–at a wedding venue, of all places. They're both dealing with the last details of cancelling their engagements. At the wedding venue, they decide to play along as if they were engaged to each other. It's fun and it's flirty.
Amelia gets to pretend she's engaged to a billionaire, and the attraction between them hasn't sizzled out since their alley encounter. Together, they get to fake their way through wedding planning. The cake tastings, the wine selection–all the special wedding details they were supposed to plan with their future partners. They're having a fun time, especially in the bedroom, but how much of their romance is fake?
The two find they're falling for each other. Will they be able to overcome obstacles, like a meddling ex trying to drive them apart? Read to find out, especially if you like
Romantic comedies
Stories with Big Beautiful Women
Hands down, this book is one of the funniest romances I've read to date. I love the author's sense of humor. She takes something that could be truly heartbreaking, like getting dumped after getting engaged, and sprinkles humor throughout. The characters have a great sense of humor themselves and a great way of coping.
Watching them turn their fake, playful romance into a very real, deep connection is so fun. I was rooting for Amelia and Brent throughout the story because they're very likable. Plus, they are very sexy together, and there's plenty of steam throughout this story to keep you hooked.
Accidental Daddy: A Billionaire's Baby Romance by R.R. Banks
Beatrice never expected a friend's Halloween party to be the event that would forever change her life. It's this fateful Halloween party where she meets the tall, dark, handsome, and masked lover named Roman that would sweep her off of her feet for just one night.
Nine months later, Beatrice's one night in the throws of passion would give her a daughter. Roman doesn't know this, but he'll find out. They made a plan to meet at the same party next year. All Roman knows about her is her name and her hometown, but he can't her out of his head. He's consumed by thoughts of her, hoping for a chance to see her again. He decides he'll go to her hometown and ask around until he meets her again.
When he does find her, he's shocked to find out he's a father. The billionaire playboy decides he'll stop at nothing to win her over. Beatrice, however, is inundated with other responsibilities. She's a mother to a little girl now, and she moved back to her hometown to help her grandfather save his pumpkin farm from going under.
Beatrice is a gutsy, spunky woman who shows great strength and determination in everything that she does. Roman is infatuated with the woman and will do what it takes to win her and her daughter over, including making an effort to win over her grandfather. Can the billionaire win over this fierce, small-town woman and be the family man his father never was?
As their relationship begins to grow, Roman learns to cut out his playboy tendencies and becomes a doting, fiercely loving father who values family, just like Beatrice, who always puts family before all else. Will they be able to form a family of their own and have a happily ever after?
If you like:
Halloween-themed novels
Surprise babies
…then grab a copy of this story pronto.
This book is truly a joy through and through. First of all, Halloween itself is such an important theme throughout the story that it seems like a character. It's really fun, especially if you're as much of a geek about Halloween as I am!
This story is truly heartwarming, too. Roman isn't your typical billionaire alpha. He's also big on hard work and family values, and that becomes even more apparent when he makes strides to win over his baby's mother. He is relentlessly loving. Beatrice is also a strong heroine. Getting to experience these two work towards a happily ever after is a delightful, funny, and very sexy time.
Secret Daddy: A Billionaire and the Nanny Romance by Kira Blakely
Being a single dad who simultaneously runs a billionaire tech company is no easy task. That's why sexy, goal-driven Lucas decides he'll hire a nanny for his two young kids. He's having trouble finding the right match, when she literally stumbles into his cabin.
Her name is Sofia, and she's a beautiful curvy blonde. When she comes into Lucas's home and into his life, there's an instant attraction. Lucas is determined to keep it professional, which means hands-off the help. She's getting along fabulously with the kids and is a perfect fit for his family. One night, they give in to temptation and sleep together. This is when their story truly begins.
Sofia is quite the naughty woman, despite her amazing skills with children. In fact, she's got plenty of secrets that could change everything. She found herself at Lucas's cabin because she's hiding from the law. She's a criminal. When her twin sister got cancer, she committed insurance fraud to get her the treatment she needs. Now, she's wanted.
To add another layer to this wild and suspenseful tale, she's becomes pregnant with Lucas's baby. Lucas feels he needs to protect her and the child she's carrying. Will this billionaire put it all on the line to make sure she stays safe? With his evil ex on his tail and the investigators going after Sofia, there's a lot of threats to their happily ever after.
If you like:
Surprise pregnancies
Lots of suspense
you'll have to read this book A.S.A.P.
This story is especially great if you're a fan of suspense and mystery. The heroine being a criminal is such a fun twist to a typical single dad/nanny romance. Then, add in a surprise baby, and there's absolutely no lack of drama! This book is hard to put down because there's so much going on that I couldn't rest until I learned how everything plays out!
The Billionaire's Secrets (The Sinclairs Book 6) by J.S. Scott
Xander was forced to deal with the ultimate tragedy. When his parents are murdered, Xander's life flips upside down. This rockstar used to live a glamorous lifestyle filled with women and partying. After being traumatized, he's destroyed. The devastation leads him to cope with drugs and alcohol.
Suffering from addiction, he goes to rehab. He now lives in a mansion in Maine where he keeps to himself and even refuses to see his two brothers. This sexy ex-rockstar doesn't expect another life changing event, this time in the form of the sassy and beautiful Samantha. She comes from the city to work in Maine for the summer as Xander's live-in housekeeper. Immediately, the two realize they won't be able to keep their hands off of each other. There's an irresistible force that brings them together.
Samantha is charming, sexy, and smart. She seems to be the answer Xander didn't even realize he needed. She's able to coax him out of isolation and remind what it's like to live again. It seems everything is going smoothly and Xander may finally begin to heal, when he finds out Samantha hasn't been completely honest.
She has a secret that could threaten the happiness they've found with each other. The two must fight off their own demons if they want to have their happily ever after.
If you like:
Boss/employee relationships
A safe story (no cheating)
…you must get a copy A.S.A.P.
My favorite part about this story is certainly the heroine. She's such a well-developed character with a great personality. When Xander is at rock bottom, I really started to feel terribly. I empathize with the character. He is very human, struggling to reconcile with the loss of both his parents. His grief, his addiction, and his choice to isolate himself from the world are all very realistic portrayals of what it's like after experiencing trauma.
So, after really learning about this fallen rockstar, it's so pleasant to have a woman like Samantha enter the scene. She's funny, charming, and smart, despite the secrets she is withholding. I really rooted for this couple to come out on top and have their well-deserved happy ending.
AMAZON >>
Hot Stuff: A Bad Boy Billionaire Single Father Small Town Story by Weston Parker
Gage is a sexy billionaire blue-collar worker. He runs his own construction business and also is a single father to a little girl. Upon losing his wife, he commits himself to being a wonderful father and giving his daughter everything he can. Then, there's another tragic event: the death of his best friend Noah's father. It's at the funeral, however, that his life would be forever changed.
He is reunited with his Noah's little sister, Lauren. She's no longer little, but a cool and tough grown woman. He always had a crush on Lauren when they were younger, but he never acted on it. It crossed a line to go after his best friend's younger sister, especially with Noah being especially protective of her.
Unbeknownst to him, Lauren had a crush on him, too. Meeting years later, the two just might have a chance of working out, despite the years that have passed and the hardships they've both endured.
Gage was set on keeping his focus on his business and his daughter. Lauren herself is fed up with love and told herself she was going to take a break from men altogether after the last man she was with crushed her. All of that changes when they go out to dinner and the heat between them is turned up enough to make anyone in that restaurant sweat.
Despite all the signs telling them to stay away, they can't get each other out of their heads. Now, Gage wants to not just be a great business owner and father, but a husband, too. Lauren has secrets, however, and if they do have a happily ever after, they'll have to overcome obstacles, including Noah's lack of consent for their relationship, to get there. Will the sexy bad boy get his crush after all of these years?
If you like:
CEO romance
Single fathers
and small-town romance
then there's no doubt you'll love this book.
This story has so much to offer, and there's no shortage of drama. The pages are jam-packed with twists and turns, it'll be hard to put this one down after you pick it up. There's a lot of great elements that made this such an enjoyable read. For example, there's nobody trying to come between them. The relationship is all about their connection to each other and their understanding of themselves.
Also, I love that Gage is a billionaire and a blue collar worker. We get the small town charm but the extravagance of a billionaire hero. I also enjoyed that Gage really loves his daughter and has his priorities straight. Plus, this book is such a steamy read. The sparks between Lauren and Gage erupt into something much hotter.
AMAZON >>
The Billionaire Wins the Game (The Andersons, Book 1) by Melody Anne
Joseph Anderson and his wife Catherine have almost everything they could've hope for in life. They live quite comfortably in their mansion, and have three grown sons who are all incredibly successful. They are, however, not settled down with wives or kids, leaving Joseph and Catherine without grandchildren. That's all they want, so they decide to set up their oldest son, Lucas.
Lucas is a bit arrogant when you first get to know him, but the sexy billionaire definitely has a tender side. He is not interested in settling down with a wife and kids. He enjoys the freedom of being a rich, young bachelor, and has also been burned before by women from his past who only want him for his money.
Then, Lucas is set up with Amy. Amy's not like other women in Lucas's wealthy bubble. She grew up without most of the privileges that Lucas and his brothers had. Now, she works for the Anderson family's company, and Lucas is her boss. Dealing with poverty for most of her upbringing, Amy is skeptical of Lucas. She tends not to trust his type–rich, arrogant, and very sexy. She finds him a bit too cocky.
After one night of out of control passion, Amy becomes pregnant with Lucas's baby. She's nervous that Lucas, who is used to getting everything he wants, will take the baby and abandon her. Lucas, however, can't help but notice the chemistry he has with his employee and future baby's mother. He is determined to make her see it, too. He wants to provide for Amy and be the gentle, loving, family man he knows he can be.
If you like:
Romance in the office
Sexy alpha heroes
…read this book today!
I love the characters in this story! From Lucas's parents, Joseph and Catherine, to the two other Anderson brothers, we are able to get a real sense of the Anderson family. This story is well-written and full of emotion. There's drama, tension, and a ton of hot scenes to keep you hooked throughout the story.
It's fun to read this book and watch the characters grow and develop as the story goes on. This book is a beautiful, fun, happy story about what happens when you let your guard down and give yourself a chance to find love when you least expect it, with whom you least expect it.
AMAZON >>
What You Need to Know About Billionaire Romance
Billionaire romance is another subgenre of literature. People like it for all sorts of reasons, whether they admire characters like Christian Grey or love the story of a self-made billionaire.
For one, some readers love it because of its unapologetic nature. Romance does that; love seems to conquer all, whether it's an Amish character, a cowboy, a billionaire boss, or a fantastical creature.
In the billionaire romance book series, the premise is simple. The main love interest is a billionaire. Female billionaire, nerdy billionaire – name it, you have it.
Below are some FAQs we gathered about this thrilling subgenre.
1. What type of traits do billionaires in this genre usually have?
With the trope's straightforward nature, this is not hard to predict. Most tend to have secret riches. Others are philanthropists.
A common factor is that these billionaires often seem tortured (emotionally). Sometimes there is a crossover with other romance subgenres—the billionaire can be a professor in a student-teacher romance.
2. What shared insights can we gain from these novels?
Avid readers of billionaire romance commend insights regarding the universal need for love and acceptance common to all people, even the richest in the land.
We also understand that billionaires are not just all about that lucrative business deal or being a mean person toward a team manager. Perhaps there is a reason why a character like Anastasia Steele in fiction still falls in love with a Billionaire CEO regardless of his dark past.
3. What are the typical situations found in billionaire romance novels?
There are plenty! For example, you get tales about two childhood friends compelled to fulfill a marriage of convenience story. It's a relief if it turns out to be a fantastic marriage.
To boot, you get an entire cast of characters filled with dark secrets.
You could have alpha billionaires so rich that they can buy an entire professional hockey team. You also get the accidental billionaire developer desperate to keep that status of being a billionaire under wraps while enjoying amazing chemistry with his love interest.
Perhaps you want the tale of the geek billionaire? Check! How about a fake marriage arrangement between an "ordinary girl" and a "hot billionaire?"
Voila! Get your list of intriguing characters straight from this genre's shelf.
Note that not all plotlines might be of interest to you. Reading a story about poor scholarship girls striking a lucrative deal on a shady street corner is not an impossibility. Or seeing an abusive marriage unfold on the page due to some major secret.
4. Who is the bestselling author of this subgenre?
There is not just one but many favorite authors of billionaire romances. There's Danielle Steel, Nora Roberts, Kim Jones, and Carolyn Brown, to name a few. You might have also heard of E.L. James and the Fifty Shades of Grey trilogy.
Skye Warren is another gifted writer who created characters like billionaire Sutton Mayfair, ready for a steamy romance.
5. Are there plenty of lighthearted scenes in billionaire romance novels?
Yes, but there can also be intense ones, especially a steamy billionaire romance novel filled with various sex scenes. There are comedic ones, too, such as a slow burn billionaire romance about a fake engagement turned perfect marriage in the end.
Expect these books to touch on serious adulting matters like financial security and emotional stability. Beyond all the romance comes some real talk about sacrifices and employment.
Regardless of the drama or light banter involved, one guarantees that there's a lesson in chemistry or two to find in popular billionaire romance novels.
6. Will a debut writer benefit from writing novels in this genre?
Regardless of the genre choice, a debut writer is always welcome to write in any genre. Just note the success of Fifty Shades of Grey, too. By the year 2020, it has sold 15 million books already.
However, a current predicament for writers who might want to try it out in this genre is that some apps still do not have dedicated categories for Billionaire Romance. Therefore, the target market for these series might not be that transparent yet.
7. What do other readers tend to dislike about this genre?
Some readers do not like having heroes who are douches. It's a turn-off to read about a man extremely reeking of privilege, and the tendency is to despise such a character's attitude.
It might also be uncomfortable to witness some dirty power dynamic. After all, there is massive wealth, which the main billionaire character sometimes uses for manipulative purposes.
It still depends on the mileage of the reader to decide which situations push their buttons or which ones are too unrealistic or excessive already. Some may dislike these and view them as pitfalls, but it does not make the genre unworthy of one's attention.
If you want an inspiring tale, you can always check out a moving billionaire romance novel; just make sure to research the plot beforehand.
8. Most billionaires, as portrayed in fiction and pop culture, are males. Are there females in literature, too?
Of course! Women can make the big bucks and hold large bank accounts, not just in fiction but also in real life.
Some famous female billionaire romance books include titles like Marriage of Inconvenience, The Mogul and the Muscle, Lush Money, and The Price of Scandal. These books can be empowering incredibly to female readers.
We see how a woman takes on a leadership role in the family business and even a single mother who will do all she can to give her daughter the best there is.
For the Next Read
Well, wasn't that a comprehensive set of FAQs? We hope that all the information we gathered is helpful for your next reading activity or purchase.
We wish you exciting times ahead as you check out that fairy tale billionaire romance to sweep you off your feet. Remember to keep these novels in mind for your next dose of entertainment, not just romance movies! Enjoy!