Looking for some of the best romance novels about best friends falling in love?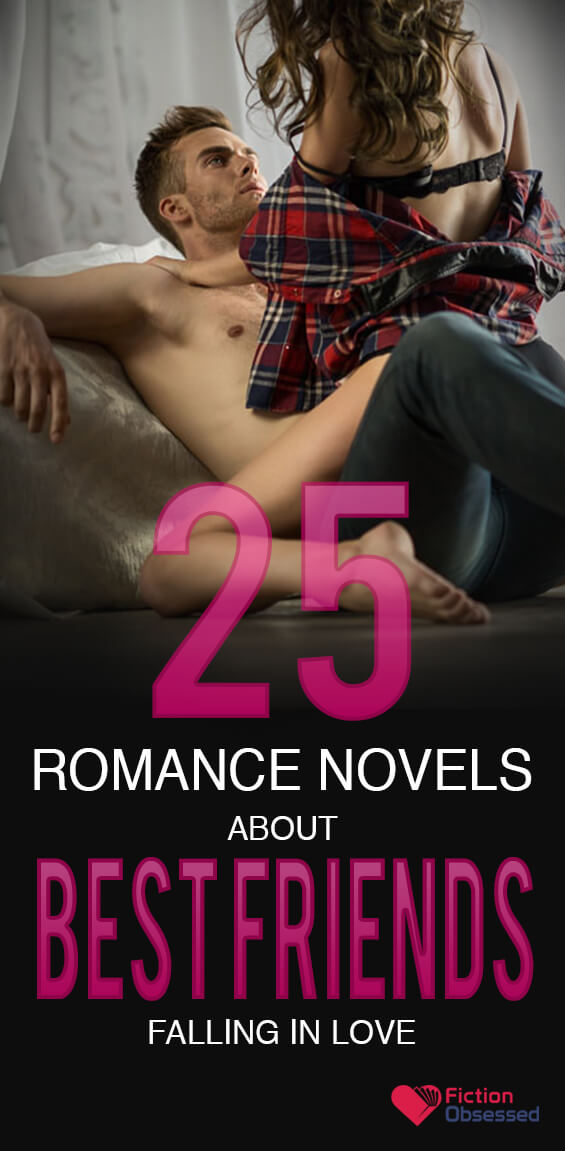 Here are 25 picks that won't be able to stop reading…
Author Heather M. Orgeron
When a girl falls in love with her best friend, he didn't reciprocate the feelings. Colton and Alexis have been friends for a very long time, but before they can be together, they have to break through a lot of challenges. At one point, thanks to Allie's shenanigans, Colton ends up with another girlfriend. But through it all, they remained friends. And through it all, their feelings for one another never change. A sweet story with an even sweeter ending that you won't soon forget.
Author Piper Sullivan
Sylvie and Brady are best friends, and when Sylvie wants Brady to impregnate her because she wants a baby, he has to think about it first. The only problem is, Sylvie wants the arrangement to be mechanical and impersonal, while Brady wants to make a baby the old-fashioned way. This is a relationship that starts out fairly sedate, but which becomes tormented, then heavily contemplated, and finally, intimate. A true best friends-to-lovers book that you won't be able to put down.
Author London Hale
Hannah and Luke have been in love for a very long time, but they don't yet realize it. At first, Barry gets in the way and even stole Hannah away at one point. But since Barry is a less-than-honorable character, Hannah eventually comes to her senses and realizes that what she really wants is Luke, and that she's wanted him much longer than she is willing to admit. This is a touching love story with a happy ending and likeable characters that you'll be rooting for from Day One.
Author C.A. Harms & Karen McVino
When you're a guy, your number-one rule concerning your best friend is simple – don't fall in love. In fact, you should also never fantasize about them because this only makes things more complicated for both of you. Unfortunately, this is the dilemma that haunts Dawson and Reese. But at first they both have strong barriers up, and before they can move from best friends to lovers, those barriers have to come down. Fortunately, that is exactly what makes this story so exhilarating and interesting.
No products found.
Author Alexis Winter
Bridgett spent one alcohol-filled night with Luke back in college and told him she loved him. He replied that he loved her, too – like a sister. Devastated, she spent the next ten years away from him, but when she tries to move on by getting involved with someone else it doesn't work. All she does is compare every man to Luke, and they all fall short of perfection. But this can't go on forever because they are friends, and eventually Luke and Bridgett will be thrust together once again. Then what will happen?
Author Whitney G.
Carter and Arizona have been friends forever, and even when they're between relationships, they have managed to keep their friendship plutonic. But eventually, their loving friendship heads into another realm, and neither of them feels like they are able to handle the change. This is a great love story that develops slowly and allows both of them to explore the other's qualities that they always knew were there.
Author Tara Crescent
Charlie wants Max in the friend zone. The only problem is that that's not where he wants to be. Their relationship develops slowly, but one mistake sends Charlie running in the opposite direction. Fortunately, it is all just a misunderstanding, and the two come back together again. Once Charlie and her ex get some closure, she and Max can finally explore their relationship in the way they have both wanted to for a very long time, and pretty soon they end up together.
Author Lauren Blakely
Miller and Ally are best friends and have been through everything together. As singing partners, they are put into situations where they need to evaluate their feelings for one another on a continuous basis. These two sweet and sexy people are trying to deny their feelings, but it cannot work forever. An amazing story that doesn't feel forced or fake, Miller and Ally's story comes together like pieces of a puzzle with an absolutely glorious ending that you won't soon forget.
Author Karina Halle
Marina and Lazarus are both bad at love, but as long as they remain friends, their own relationship should be fine. Marina is sexy and smart, but she has had problems with men leaving her before they even get to the third date. Lazarus is just the opposite – all women want to be with him, but he always gets bored and moves on before the relationship has a chance to develop. They are friends only, but when they get tired of their love lives and decide to date each other temporarily, something marvelous happens – something that will change both their lives forever.
Author Mia Ford
When a man's wife leaves him for another man, leaving him to raise their child on his own, he is naturally devastated. But when he realizes that he is going to see her again, he enlists his friend Melissa to act as his girlfriend just to get back at her. This is Nick's dilemma, and the only fly in the ointment is the fact that once his ex-wife goes along her way, his relationship with Melissa feels a lot like the real thing. This is a fast-paced love story that gets hot quickly, proving that friends who become lovers often make the most devoted couples.
Author Mika Jolie
Cori and Dean have been friends since grade school, and while Dean feels strongly about friends never becoming lovers, he finds it difficult to abide by this rule. He finds it more and more difficult the older they get – and the hotter Cori becomes. Sure, he's had daydreams about them having sex, but deep inside he never counted on that actually happening. Until now. Now, he will do anything to have Cori, and to have her in the most lustful, basic sense possible. All he has to do now is convince Cori.
Author Hazel Keys
Amelia and David are best friends, and they have been for a very long time. Because it often happens that neither of them is "single" at the same time, they remain best friends for many years, until David does something that seems to put their relationship in fast motion. Once they each finally got rid of their demons and learned to trust other people again, the relationship flowed smoothly, with a sweet and heartwarming ending that readers will believe they both have earned.
Author Lacey Silks
Carter has a career he loves, a girlfriend he treasures, and a baby on the way. That is, until he loses it all. Devastated, he turns to the friend who's gotten him through a lot of heartache – Molly. Molly, who left their small town because she felt stifled there. Molly, who came back to that town when she knew Carter needed her. Just like Carter, she has had her share of horrible relationships, until the day she realizes that her true love has been right in front of her the entire time.
Author Stephanie Nicole Norris
Shelby is a famous artist that makes lots of money and lives the good life, and the only thing she seems to be missing is a love life. Sebastian is her best friend, and they shared an unexpected and passionate kiss after consuming too much alcohol many years earlier. When Shelby's boyfriend proposes marriage, she is less than excited, but it doesn't take her long to figure out why. She is still thinking about that kiss with Sebastian, and until she can go back and figure out what it all means, she'll never be able to move forward with her life.
Author Jessica Peterson
When a woman who feels that she has it all gets a next-door neighbor that is sexier than hell, she realizes she has truly made it in the world. This is Olivia's situation, but she first has to be friends with Elijah before he decides to move forward with their relationship. However, when he suddenly invites her to his cabin for the weekend, she is stunned. She knows that this means they will likely become more than friends once the trip is over, but is this something she is truly ready for?
Author Caroline Tate
Rachel is someone who sees the best in everyone, and she is trying to talk her best friend's brother, Garrett, into taking over her father's brewery. When the two meet after not having seen each other in years, sparks instantly fly. But Garrett is closed-off and has built a wall around his heart, and Rachel can't seem to penetrate that wall. As a horrible anniversary approaches, the two have a lot of soul-searching to do, but if they can get through this, they might just end up where they belong – together.
Author Ember Casey & Lucy Riot
Alex is a billionaire who always makes the list of eligible bachelors, and his life is going just as he'd planned. But Mae knew him when they were kids, and she remembers the once-humble guy who ran around in torn blue jeans and tee-shirts instead of expensive business suits. When Alex comes home for his mother's birthday, Mae is naturally there, and the two are reunited. It is there that Alex realizes that even though he is now rich and famous, he is still missing an important piece in his life – and that piece is Mae.
Author Tracy Lorraine
Molly is Ryan's best friend, and the one person that he can always turn to regardless of what is going on in his life. When Molly finds herself without a place to stay, Ryan lets her move in with him because after all, they're just friends, right? But what happens afterwards is anything but ordinary, and soon Molly is fighting the attraction because she doesn't want the friendship to be ruined in the process. She knows that their friendship is a good one; she's just not so sure what will happen if they find themselves wanting more.
Author Mickey Miller
Amy and Chandler are friends and nothing else, and that's all Amy wants for now. But years later, when she is between relationships, Chandler decides that there's no time like the present to show her how he really feels about her, and he makes his move. He gives her the VIP treatment so that she can learn what a real man is like, but she has decided that it is only going to be temporary. What happens, though, when Chandler wants something more permanent?
Author Gemma James
Sadie is a young woman who wants to experiment sexually with a man with no strings attached, so she turns to her best friend's brother for lessons. After all, they've known each other forever, so why wouldn't this work? The only problem is that with each time they get together, Ashton wants more. And not just more sex. Sadie is everything Ashton never had, and if they can get past Ashton's sister and his past, they might just make it together.
Author Brooke O'Brien
When two people who have been friends for a very long time get together just for one night in order to experiment and forget about a damaged relationship, neither of them expects complications. But complications are exactly what they get because this one night was enough to make both of them realize how much they wanted one another, and nothing is ever the same again.
Author Natalina Reis
Emily and Jeremy have been best friends since childhood. When Jeremy suddenly comes back after being gone for five years, Emily has to forgive him for not disclosing the reason he went away in the first place. This is a sweet, entertaining, and even funny story that will easily both break and warm your heart. It is also filled with some interesting characters that you won't forget and an ending you'll be happy to experience.
Author Ilsa Madden-Mills & Tia Louise
Rebecca is a reporter and Cade is an ex-NFL player who is currently a broadcaster at the same station where Rebecca works. When they meet outside of the office, sparks fly, and neither of them can deny the chemistry they feel towards one another. A sexy alpha male and a super-ambitious career woman make for one sexy and exciting story, and when you add in additional characters and situations, it becomes a story that you will not forget anytime soon.
Author C.J. Martin
This is the story of Riley and Jesse, whose friendship may not even survive the fact that they are now lovers. Although they were attracted to one another for a very long time, neither one admitted it to the other, so it took a while for their relationship to develop. When they go several years without seeing one another, Riley is devastated when she sees on social media that he has moved on with his life, but this does not mean they will never be together.
Author Carrie Ann Ryan
Presley is friends with a man who is her ex's brother, but that doesn't stop her from wanting more than friendship from this young man. She knows that falling in love with her best friend isn't exactly the smartest thing to do, but her feelings toward Mason are growing bigger every day, and finally she is unable to hide the way she truly feels about him. After all, Mason always makes her smile and can make even the darkest situations seem a little brighter. She's not supposed to fall in love with him. But she does.