Looking for the best unrequited love romance novels to read?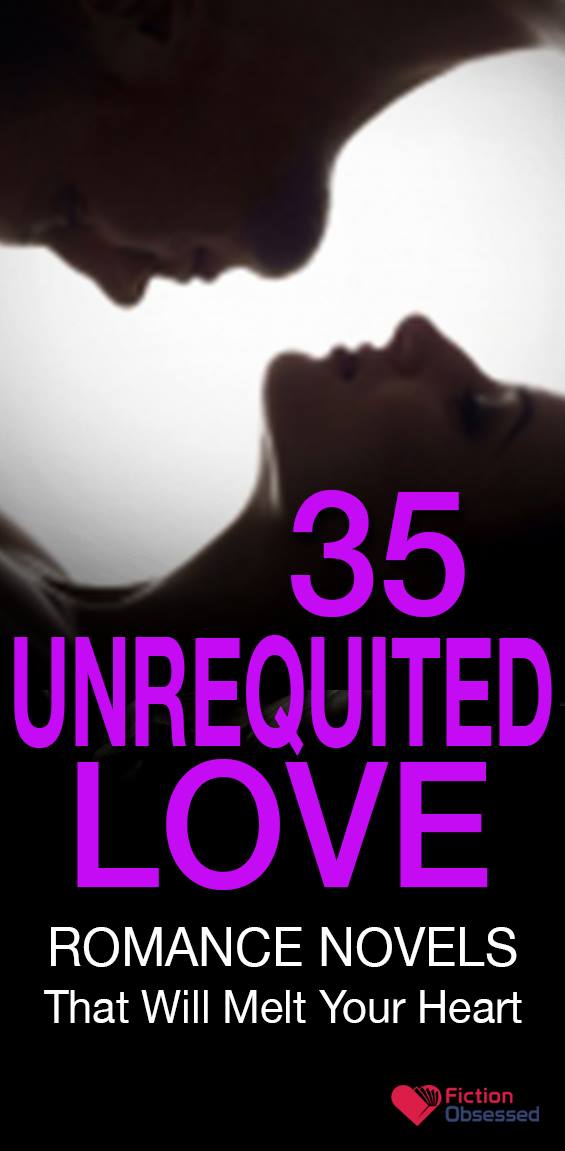 See our newest picks for the month in the chart below:
Here are 35 picks heart-wrenching picks that you won't be able to put down…
Author Jen Frederick
Winter treasures her sister and her sister's ex-boyfriend more than she treasures anything else in life. While it's true that she and Finn spent one magnificent night together, the evening seems to mean something different for each of them. Finn is now nearly obsessed with Winter, but she has other things on her mind. The result of their tryst is disastrous, but Finn is willing to charge ahead anyway if it means having Winter in the end.
Author Susie Tate
Sam and Katie both have demons, and their personalities make this obvious. Katie is bubbly and has a sparkling personality, while Sam is surly and damaged. In fact, Sam is so damaged that when Katie needs his help, he finds it difficult to decide to help her. He feels that by getting close enough to Katie to help her, he could possibly put her in even more danger. But, in the end, he lets his love for her take precedence over everything else, all because he wants to make Katie his in the end.
Author Kathryn Andrews
Camille is a Southern girl about to marry someone she doesn't love because of old family traditions, and she is looking for a way out. Fortunately, when the minister asks if anyone objects to their union, a perfect stranger stands up and says "I do." She doesn't know him and he doesn't know her, but his action is just what she needed to be free. In fact, Reid is not sure why he did what he did, but he knows deep inside that it was the right thing to do.
Author Jessica Hawkins
Lake and Manning have a relationship that is both tortured and forbidden. Manny has spent time behind bars. Lake is a bubbly girl who believes anything is possible. Manny believes love comes in many different forms, and he is determined to make sure Lake is happy, even if that means she ends up with somebody else. A love story with an ending you won't see coming, you'll cheer not just for this couple, but for all of the other characters as well, and it's a story you won't soon forget.
Author Samantha Towle
Tru and Jake were once each other's first love, until Jake moved to America to make it as a rock star. Now that he has accomplished that goal, he and Tru run into one another again because Tru is a journalist assigned with doing a story on Jake's band, The Mighty Storm. When they meet, sparks fly, and he asks her to go on tour with them to get a better idea of what his life is like. But, Tru's boyfriend, Will, might want a say in this decision.
Author Penny Reid
Elizabeth has a fence around her heart and likes it that way. She also likes her commitment-free trysts with men she doesn't have to be friends with. But, when she meets Nico, he automatically arouses a need in her that she didn't even know existed. Nico is charming, but chauvinistic – not the type of guy Elizabeth usually likes. But, there's something different about him, and Elizabeth is finding it more and more difficult to go through with this arrangement without falling in love.
Author Stacy Kestwick
Reese is a percussionist who auditions for a snare-drum team that has traditionally been an all-male group. Laird is hesitant because no girl has ever qualified for a spot on the team, and as frustrating as he is to her, Reese is determined not to let him get in the way of her dream. Tension is something she expected. What she didn't expect were sparks, and there are plenty of them to go around in this relationship.
Author Whitney Barbetti
Two people have a one-night stand, and he claims it is a mistake the moment it's over. As a result, she runs far away from their home to another country, but unbeknownst to her, he follows her. She has always loved him, but he isn't sure where their relationship stands. He agrees to share secrets with her if she will do the same, but it isn't long before she realizes her secrets may just kill the opportunity for them to ever be together.
Author Winters
Carter and Aria have families that aren't supposed to end up together, and their story starts out very slow. Although they are at odds with one another from the very beginning, the couple find each other irresistible, and between a war, the possibility of Carter's family killing Aria's father, and Aria's talent with Tarot cards, this is one story that will keep you guessing what will happen next to the very end.
Author Winter Renshaw
Royal is the best friend of Demi's brother, who even taught her many of the things that big brothers often teach their little sisters. They also went to Demi's prom together, and she is completely in love with him. Unfortunately, he leaves suddenly one day without explanation, and Demi's entire family is forbidden to speak his name. Then one day, he returns as quickly as he left, leaving Demi's heart in turmoil. What is Demi to do now?
Author Melanie Harlow
Sebastian loved Skylar the moment he met her, and now she is back in his life again. But, he is convinced that love doesn't happen for men like him, so he is content with ignoring her for now. Skylar gets tingly at the thought of being intimate with Sebastian, and she feels she is completely his, but she wonders daily why he is so hesitant to let her into his heart. A story that shows the difficulty of choosing your head or your heart, and characters you will relate to from page one.
Author Len Webster
A.J. and Evan are trying to have a relationship, but things keep getting in the way. On a road trip from North Carolina to Massachusetts during a Fall break, they try to figure out how to move forward. But, since A.J. is not yet ready to reclaim parts of her that he once considered his, the relationship gets complex. Things have happened to them in the past, and in order to be together they need to get past all of that so that their union will last.
Author Marie Force
Ella has been secretly in love with Gavin for a long time, but he has already told her not to count on a relationship with him. His life has been complicated and he has a lot of secrets, so why is it that his tough exterior only melts when Ella is around? Still, he is determined to keep everyone out just as Ella is determined to make him hers, so who will win in the end?
Author Karla Sorensen
Anna is the love of Tristan's life, but she doesn't know it. To make things worse, when he first falls in love with her, she is married and off limits. But, when she becomes single again, Tristan decides to tread lightly because he doesn't want to ruin his chances with her. Add to this the fact that he is also helping her with a work-related dilemma, and you'll understand why it is better for Tristan to go slow – at least for now.
Author Maci Dillon
Chloe and Will's love story is a bit different than many others. They go through a lot together and need closure. Chloe loves Will, and she seems to be the only one to forgive him when he does the unthinkable. But, after many years away, he comes back into her life and brought her back to that fateful time. Will one night with him offer the closure she's looking for, or is it all Chloe needs to be irreparably damaged from now on?
Author L.K. Shaw
Casey and Philip are friends, until Casey decides she wants more out of the relationship. Trying to escape a terrible childhood, she approaches Philip with a proposal she thinks he will be happy to agree to, but for some reason he is hesitant. Casey is confused because after all, sex almost always complicates a relationship. Or does it?
Author Stephanie Rose
Sara is a single mom with plenty on her plate and no time for love. When she gets a chance to fulfill a lifelong dream she jumps at the chance, even though she knows it's going to take a lot of hard work and determination, not to mention no distractions. When she meets Drew, her heart flutters a bit, but as their relationship develops it seems like he is putting more into it than she is. Will that change in the end, or will Sara continue to be closed off to the world?
Author Cynthia Woolf
Drew has traveled to Seattle with a group of mail-order brides, including one named Lucy, whom he decides to keep for himself. Lucy saw too many men torn from their families due to the Civil War, so becoming Drew's fiancée is something she cherishes. But, when she witnesses a murder and is whisked away by the killer, Drew has to decide just how determined he is to keep her. Drew is Lucy's one true love, but are his feelings for her enough for them to stay together?
Author Elizabeth Chadwick
Eleanor of Acquitaine was forced to marry a man she didn't love at the age of 13, all so she can take the throne as the Queen of France. Her life is filled with opportunities, but also a lot of risks, and Eleanor is determined to get through it in one piece. With forbidden love at every turn, she also has a chance to improve her love life, but at what cost? An excellent historical novel with characters you'll love.
Author L.K. Shaw
A suspenseful story that will keep you guessing until the very end. When Connor, a Dominant, and Bridget, a Submissive, get together, sparks fly. But, Bridget isn't looking for love, and Connor is looking for more than this type of relationship. But, when an enemy comes on the scene, it is Connor's job to get rid of him. Can he get rid of him on time, or is his relationship with Bridget doomed to failure?
Breakaway
Breakaway
Author Heather M. Orgeron
Allie fell in love with her best friend many years ago, but unfortunately he never loved her back. After all, in his eyes they were only friends, and that's the only way he thought of her for a very long time. When Colton discovers he loves Allie, but his chances with her are ruined, he turns to basketball because he knows how good he is at it. But, years later, he is still pining for Allie, until he finally decides that this time, he's going to score with her.
Author Gemma Blackwood
Harry is a widow who is now the unexpected heir to the Dukedom of Westbourne. He feels his life couldn't be any better, so when he finds out that a friend named Catherine is about to marry someone out of convenience, he steps in to intercede. He offers to marry her instead, but the most difficult part will be making her believe that the proposal is not out of duty, but out of love.
Author Larsen
Nora needs money and accepts a tutoring job for a handsome young man and his sister, but when she is not permitted to leave at the end of her time, she takes her student and flees. A car accident ensues, and when Nora comes to she finds her student gone. The cops want her to recount everything that happened to her, both good and bad, to solve the mystery. A dark romantic story that is both gritty and unforgettable.
Author Ella Fox
Ronan has a hellish past and decides to leave his home state of Colorado, but a piece of Keely went with him. Years later, he returns only because he has to, and he finds Keely has changed. However, what hasn't changed is his desire for her. His dilemma is having to choose between a woman he loves and a town he hates, and he is finding this choice more difficult than he imagined.
Author Lori Ryan & Kay Manis
Ben returns home when his father dies to help his mother keep the lodge they once built. The manager is a woman named Maggie, whom Ben had a crush on many years ago. But, Ben is all grown up now, and when he starts going through the books to satisfy the bank's requirements for the lodge to remain in the family, he decides to stop at nothing to make it work out in the end. Even if it's difficult, and even if Maggie is starting to care for him like she never has before.
Author Lyn Forester
A paranormal story about love and redemption, it tells the story of Siobhan and a set of triplets who returned to their town after some time away. The triplets are not well liked by the town, but when they return, they and Siobhan try to rekindle the closeness they had many years earlier. Even with their somewhat convoluted pasts, the four friends try to move forward, which is described in excellent detail in this book.
Author Taylor Sullivan
Jake is Katie's brother's best friend that she is in love with, but when they kiss she learns he is only thinking of her as a little sister and nothing else. So Katie moves away, but when she returns many years later – only to discover Jake is now her new boss – things get complicated. She is determined to make him see her as more than just the goofy kid sister of his best friend, and she will do anything to make that happen.
The Broken Road
Author K.S. Ruff
Kristine has just arrived in D.C. from Montana, trying to put an abusive marriage behind her. She decides not to date for a while, in part because she still hasn't recovered from her divorce and because she now has a stalker to worry about. Meeting Kadyn makes things a bit complex, but it isn't long before Kadyn is after Kristine, even willing to put up with all of the challenges in her life. But, is this enough to make her open to the relationship, or should she take care of some of those challenges before embarking on a new relationship?
Author Emily Goodwin
A great second-chance story, the tale revolves around Nora and the man who loves her. Jack is the dark to Nora's light, but when he finds he has hurt her, she leaves. When she returns years later, Jack is determined to do whatever it takes to get her back, regardless of what he has to do to make it happen. He loves her, and despite the challenges from their past, he is bound and determined to never let her go again.
Author Pam Godwin
This is the story of Ivory and Emeric. Emeric is Ivory's piano teacher and her mentor, as she is struggling to get out of poverty through her music the following year when she starts college. Despite their age difference and the fact that Ivory is still in high school, the two embark on a passionate love affair that includes some BDSM. But, in the end, they do more than that – they fall in love. A sexy, dramatic novel that flows well and avoids the "ick" factor despite the age difference between the two main characters.
Author Suzanne Jenkins
Ellen is a young teen living with a doting stepfather while her mother is in a mental hospital. Just before her mother is set to be released, however, she dies, which causes Ellen's natural father to come back into the picture. In a different scene, Ellen and her stepfather practice for a dance contest they've recently enrolled in, and the nosy neighbors around them view that practice and decide there is abuse going on in the home. This story has several different plots, and they consist of murder, small-town gossip, and unrequited love, all in one unique tale that you will never forget.
Author Bethany-Kris
This is the story of the romance between Camilla and Tommaso, which takes on a few challenges because it is Cam, not Tom, who has commitment issues. Tom is also involved with the Mafia, and the many challenges of his life at present cause Cam to eventually run away from him. A complex love story that is not going to bore the reader, which shows that two people can survive anything if they are willing to work for what they want.
Author Laura Kinsale
The Shadow – powerful, rich, and handsome. He is also a man with many secrets, most of which involve his terrible childhood. But, his heart also yearns for a little passion in his life. The Star – innocent, broke, and beautiful. She is drawn to the Shadow like she's never been drawn to anyone before, and she is determined to enter into any arrangement with him that he might want, regardless of how dark and dangerous it might be.
Author Kate Sterritt
Emerson comes from a broken home and is miserable with her life, so Merecki befriends her to take her mind off of the things that are happening in her home. Emerson loves her art, and Ki likes to fish, and soon the friendship between the two of them turns into much more. Although their relationship remains intact for quite some time, it is not without its challenges, and the reader will experience its ups and downs throughout much of the novel.
Author Maddie Taylor
Carly has a huge crush on the security guard who works at the lingerie shop where she works. She has a plan to seduce him, but things go terribly wrong thanks to silent alarms that go off and the anger of Trent, the guard. But, that doesn't stop Carly from trying again, even though she isn't sure if Trent will ever cool down enough to forgive her.