Do you love the thrill of a romance novel with an unexpected pregnancy?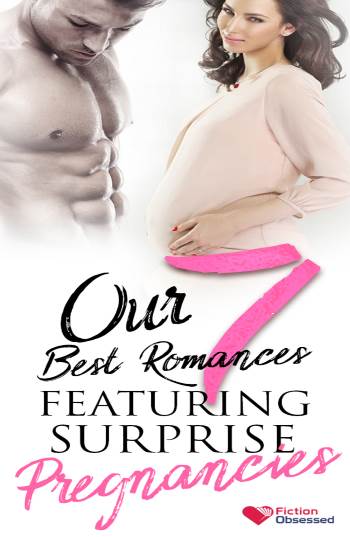 SaveSave
Personally, I'm a huge fan. I love the action, the suspense, the drama, and the sexy dads who prove themselves to be family men through and through.
If you like confident heroines, deliciously protective alphas, and the drama of a surprise baby, these books are for you!
See our newest picks for the month in the chart below:
Our Top 7 Best Surprise Pregnancy Romance Novels
His Surprise Baby – A Sports Star Secret Baby Romance (You Can't Resist a Bad Boy Book 1) by Layla Valentine
Baby Daddy (Irresistible Bachelors Book 8) by Lauren Landish
Rose is a fiercely confident and sexy woman who owns her own business. She has a lot going for her, including her successful career and her hilarious friends. Rose has always felt her life would be complete with a family. She's determined to be a mother, but it seems every man she meets is a dud. Until the night she meets Nic.
Nic's a playboy, a bachelor, and always on the go. He never stays in one place for too long. He meets Rose in her town during a chance encounter, and the sparks fly. The instant connection the two have is magical. They give in to their desires and spend one passionate night together.
It was only ever supposed to be a one night stand, but as Nic moves around, he realizes he can't move on. He's infatuated with Rose, thinking about her constantly. Rose thinks about him too, especially when she finds out their one night stand is something much bigger than they planned.
Rose is carrying Nic's baby, and Nic didn't leave her any way to contact him. Nine months later, Nic ends up back in Rose's town, and the same feelings of desire that they felt when they first met come flooding back.
Except now, there's a an unexpected new element to their love story — their baby. Between the misunderstandings and miscommunication, their fate is a family is not certain. Nic shows that he's not just a playboy, but a sweet man with a tender side that Rose finds sexy and endearing. Will it be enough to assure their happily ever after?
Read to find out, especially if you're a fan of:
sexy alphas,
strong female heroines,
and second chance romance.
This book was a pleasure from the first page to the last! There's a great ensemble of characters that help move the story forward, including the hilarious Brad, Rose's best friend, who was never short on the sass and the humor.
The book was not only heartfelt, but sizzling hot. Nic is a total hunk, and all his years as a playboy bachelor definitely paid off in the bedroom. This story is a great read if you want to laugh while sweating from the heat!
AMAZON >>
The Prince's Secret Baby (A Baby for the Prince Book 1) by Holly Rayner
Maggie Bechet is a hardworking chef who spends most of her waking hours in the kitchen of her New Orleans restaurant. She loves food and is passionate about her work. Her life flips upside down when she has a real life fairytale moment.
Prince Raffaele enters her restaurant to dine while visiting New Orleans for a short trip before returning to his nation to take care of his duties as prince. Just like Maggie, he's charming and loves food, and they hit it off immediately. They begin to fall for each other — hard. Raffaele invites Maggie back to his homeland and wines and dines her, showing her a lavish life of royal balls and private jets.
Maggie's breath is taken away by Raffaele, and one night, they sleep together. Almost as quickly as it all happens, it comes to an end when Raffaele finds out he must fulfill the royal duty of serving in his nation's military. He promises to Maggie that he'll keep in touch and be back for her before she knows it.
There's two things Raffaele doesn't know though: while serving, he will be cut off from all communications to everyone in his life, and Maggie is pregnant. Maggie assumes Raffaele has left her high and dry, but Raffaele desperately tries to reach her.
How will Raffaele handle Maggie's surprise pregnancy and his duties as prince? Will their fairy tale have a happily ever after?
If you want:
royal romance,
romantic suspense,
and a sweet read,
then this is the book for you.
I loved reading this delightful romance. Our hero, Prince Raffaele is truly the Prince Charming type. He's kind, caring, and sweet.
He and Maggie have such a pure, loving romance. They're both such authentic people, I really found myself rooting for them. There's a nice element of romantic suspense in this book that makes it hard to put down!
The Bear Shifter's Baby (Fated Bears Book 4) by Jasmine Wylder
Lori's is over the duds she's used to dating. They're all losers going nowhere in life, and Lori sees herself having a much brighter future with someone who deserves her. She tends to pick the worst of the worst, when all she really wants is someone who has her back.
Lori knows better than to get involved with her new boss; he's the complete opposite of what she needs right now. Clifford is dominant and knows what he wants. He's a total alpha, a totally rich, and totally hot bear shifter.
He's used to getting what and who he wants, and he's now got eyes for Lori. The way her curves hug her dress is almost distracting. Unable to deny the explosive chemistry between them, they allow themselves to give into passion and have a fling.
It'll just be one night, or so they thought. It would be a night that changes everything. Two months later, Lori learns that she's pregnant. The way Clifford finds out is certainly unusual, involving his nemesis from a rival pack who is determined to destroy Clifford, even if that means getting to the people in his life.
Clifford wants to keep Lori and their unborn baby safe, so he'll do anything, including kidnap her to protect her. Will Lori, Clifford, and their future child be able to survive the dangerous world filled with enemy shifters and threats around every corner?
If you are into
shifter romance,
CEO romance,
or romance with protective alphas,
then this book has everything you need in a romance!
I love that this book isn't just a romance, but an action-packed adventure. There's a bad guy, a good guy, and a woman caught in the middle of their pack rivalry.
Shifter romances are always filled with good suspense and drama, as our hero isn't just a man but also a beast. He's fiercely protective and will take any extreme measure to protect the woman he's fallen for.
What's not to love about a protective alpha, especially one who is an animal, both in and out of the bedroom?
AMAZON >>
Knocked Up by the CEO: A Secret Baby Holiday Office Romance by Lilian Monroe
Harper has had every test there is to confirm what she feared most: she's infertile. She wishes there was something she could do, as she wants to have a baby one day. There's no denying the heartbreak of the news, but life must go on.
When she is asked to be in charge of the company Christmas party for the ad firm where she works, she takes on the responsibility. She knows she could use some holiday cheer. For the party, Harper brings in a 16-foot Christmas tree.
During the party while fighting off unwanted harassment from her co-worker, she's able to make an escape to check on the giant tree. When the towering tree topples over, she's pinned underneath.
But then, a knight in shining armor appears immediately to help her. It's Zach, the firm's billionaire CEO. He's sexy, powerful, and could have any woman. He's one of the finest eligible bachelors of New York City. Unbeknownst to Harper, Zach's had his eye on her for quite some time. He's attracted to her curves and wonders what her lips would feel like against his.
Zach and Harper feel the electricity that is between them, and right in Zach's office, they get hot and heavy. This passionate one-time-only hook up results in what can only be described by a miracle. Harper's pregnant. Despite all the tests and scans that told her it was never going to be possible, she's having a baby.
Harper's wildest dream has come true, but is the father the right man? Zach's a billionaire bachelor who didn't plan on becoming a father. Zach and Harper become partners on a work project, and their lust begins to develop into something beautiful and meaningful.
There's more to Harper than Zach knows, and with secrets and obstacles challenging the couple at every moment, will the two be able to have a happily ever after as a family?
Read to find out, especially if you like
romances with a Christmas theme,
billionaire CEO alphas,
and office romance.
I love that the surprise pregnancy isn't just a surprise because it was unplanned, but because it was deemed medically impossible. This only adds to the connection that Harper has with Zach. What could it be about him that made the impossible occur?
The heat is turned all the way up between these two. An office romance is always a little naughty and extremely sexy! Zach is a total hunk that you'll wish was your boss.
His Surprise Baby – A Sports Star Secret Baby Romance (You Can't Resist a Bad Boy Book 1) by Layla Valentine
Bradley is a hunky quarterback who is a bit of a mess as far his public image goes. From sex scandals to fights, he is always caught up in drama and bad press. In the public eye, he's your typical bad boy who thrives on reckless decisions and gets caught up in the moment. When his sponsors threaten to pull out because they don't like his reputation or his image, Bradley decides he needs to recruit the best P.R. professional he can to make him look good again.
That's when he meets Heidi. She's sexy, sassy, and incredibly good at her job. At her last job, her boss was a total creep. He always made sexual advances, making Heidi immensely uncomfortable. She finally decided to leave that job and start up her own public relations firm.
Now, she'll work for Bradley to help repair his public image. Even though they're both trying to keep their relationship strictly professional, they're not able to resist temptation and deny the chemistry they have. When Heidi goes with Bradley to an island that his football team uses for retreats, they can't resist each other any longer.
Maybe it's the tropical breeze, or Bradley's charm, but he and Heidi end up in bed together and in the throes of passion. When they return, chaos ensues. There's two lawsuits against Heidi, and she's forbidden from contacting Bradley.
It's a disaster, especially when Heidi learns she's pregnant with Bradley's baby. Between the drama and the secrets, will Bradley and Heidi be able to work together to fix the mess and have a happily ever after?
If you love:
romance about athletes
and strong female heroines,
then you'll love this book.
I absolutely love these characters and all the chaos that ensues during their love story. Heidi is strong, confident, sassy, and dedicated to her career. I love the way she leaves her old job with the creepy boss to build her own business.
There's also a strong cast of supporting characters, like Heidi's parents who are there for her throughout all the drama and her pregnancy. Bradley also proves to be quite the romantic and not just the bad boy the media makes him out to be. He becomes relentlessly committed to winning back Heidi and admitting his wrongdoings.
Both characters are kind and compassionate, and I was rooting for them to work it out through the web of lies and drama in the life of the high-profile hunky quarterback. There's plenty of heat in this story!
Having Her Enemy's Secret Shifter Baby by Celia Kyle 
Jane has always rejected her role in the pack. Female wolf shifters are treated terribly, only thought of as vessels for carrying pups. Wanting to escape this dynamic, Jane goes to college, which isn't typical for shifters. She just wants to live as her life like a human as much as possible.
When she goes to Florida for spring break, she meets Reese. Reese is handsome and charming, and in the spirit of spring break, they have a one night fling. Jane's world is flipped upside down when she learns her night in the throes of passion with Reese has left her pregnant.
Jane returns to her pack so that she can responsibly care for her baby surrounded by the support of her pack. At home, there's drama between her pack, led by her father, and the rival pack. The rival pack just lost their alpha, and their new alpha is none other than Reese.
Having had no way to contact him after their Florida fling, Reese doesn't know Jane is carrying their pup until their reunion at the meeting. Being that they are from rival packs who are currently in a volatile situation following the death of Reese's pack's alpha, it seems unlikely that these star-crossed lovers will have a chance to live happily ever after. But Reese always gets what he wants, and what he wants is Jane and the baby they've created together.
If you like
shifter romance,
pack rivalry drama,
and protective alphas,
you'll love this book!
This book is a light, fun, action-packed read. There's every element a shifter romance needs to be a great read, including pack rivalry, suspense, and drama.
Reese is swoon-worthy. He wants so badly to protect Jane and their baby and live as a family. When you learn how much of a jerk Jane's father is, you can't help but support the bold and beautiful heroine in her attempts to escape in order to live her own life. This book is a beautiful story not just about love but about family and forgiveness.
AMAZON >>
Puck Me Baby: A Sexy, Flirty, Bun-In-The-Oven Romance by Lili Valente  
Amanda and Alexi only expected their one night stand to be just that — one night. Sexy NHL protector Alexi is tall, dark, and handsome. Amanda is gorgeous, strong, and doesn't shy away at a chance to get a little wild.
After countless margaritas, Amanda and Alexi share a passionate night of steamy sex. Amanda sneaks out the next morning, expecting never to see Alexi again. She soon finds out she's carrying his child. With no way to contact him and share the news, Amanda is on her own.
That is, until she sees Alexi at a mutual friend's wedding, and they're reconnected. She's able to tell him that she's pregnant with his child. They decide they'll co-parent as friends to give their baby the best life they can.
Alexi proves that he's committed to their arrangement, giving Amanda a place to stay in his guest house and going with her to doctor's appointments. Alexi finds he's falling for Amanda, and that co-parenting may be out of the question when there's this much chemistry.
Alexi wants to be a family with Amanda and their baby, even though it scares him. He's had his heart shattered and dreams broken in the past, and he can't bear to suffer that way again. Will Alexi be able to fight the demons from his past and have a happily ever after with Amanda and their unexpected but cherished child?
If you like
hockey romance,
strong, confident alphas,
and protective alphas,
you'll love this book!
I love how well-written this book is. It's a great story about relentless love. It was emotional and funny at the same time, and it definitely made tears well up in my eyes on more than one occasion.
I loved how much Alexi is willing to fight for Amanda and show her how much he loves her, baby or no baby. He's intense and athletic, but also sensitive and compassionate. He's sexy, she's gorgeous, and when they get together, it's hotter than hot.
I found myself loving both of these characters and rooting for their happy ending from the very beginning.
AMAZON >>
What's your favorite?
I love unexpected pregnancies in a romance novel. You know there's going to drama and a bit of romantic suspense, as well as plenty of sexy parents.
From athletes to shifters to CEOs, there's no shortage of daddies in these books. Who makes you swoon? Let me know which family you couldn't help but root for in the comments below!