Looking for something exciting and naughty to read? Check out our picks for the best older man younger woman romance novels…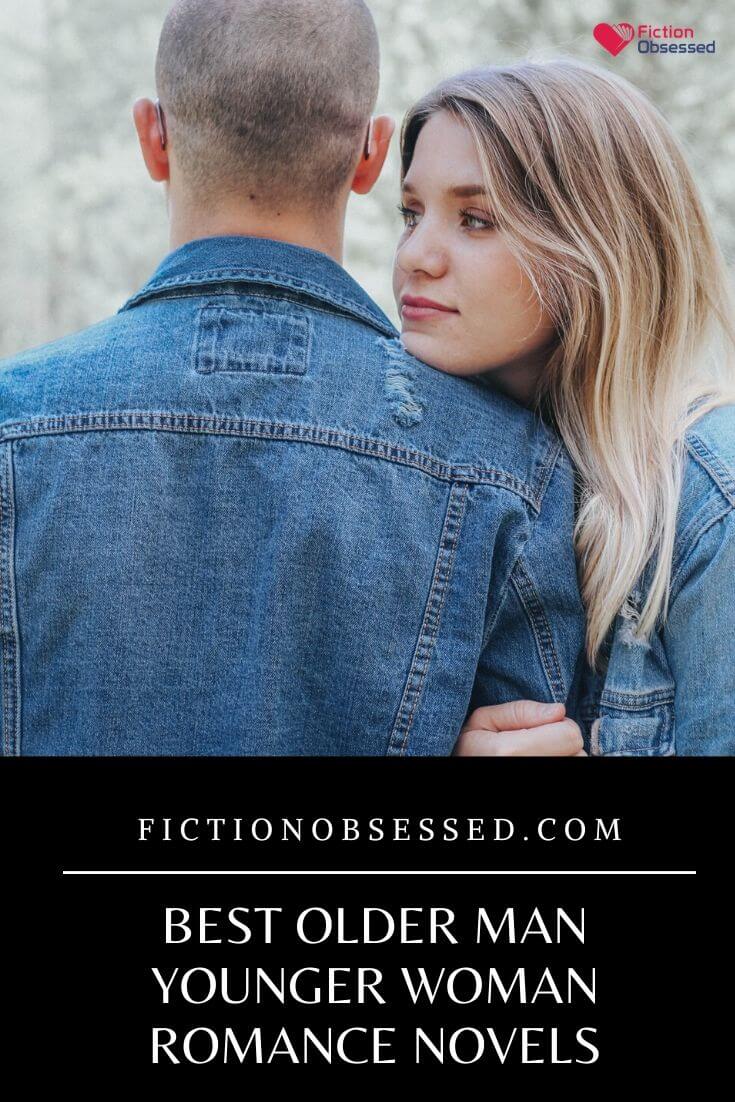 See our newest picks for the month in the chart below:
Author Dare Michaelson
Carmindy is a teenager with one main goal in mind: be a good girl. Do good in everything – school, friends, extracurricular activities. Everything. At least that's what she thought would happen, until she met a man named Ford Young. Ford is just what Carmindy wants in a man, and he is showing signs that he'd love to turn her from a good girl to a bad girl. There are only two problems – he is twice her age, and he is her best friend's dad.
When I Kissed You
Author Suzie Grace
Ian and Riley have a love affair not unlike thousands of others, but there is one thing that sets them apart – he is a wealthy businessman who is almost 50 years old, and she is a woman barely in her 20s who works for him. While no one at first seems to approve of their relationship, especially his family, it blossoms anyway until it is more than just a sexual fling. A very interesting story complete with characters you'll soon be rooting for and an ending you'll love.
Author Mia Madison
Brian feels his heart fluttering the first time he meets Mallory, but because of their age difference and the fact that Mallory is his employee, he decides not to act on his desires. But, he soon finds out that Mallory is new to the city and has decided to get a fresh start in a brand new place. Oh, and there's the fact that she is as virginal as newly fallen snow. Suddenly, he can't stop thinking about her, and what he wants more than anything else is to soil her in more ways than one.
Author Mia Madison
Jessa is young and completely innocent in many ways, so no one is more surprised than she is when she gets a job at an adult toy store. When she accidentally trips the security alarm one night and a gorgeous cop shows up at the store, she is surprised to find that not only is he absolutely gorgeous, but he is also a friend of her father's. Not to worry, though, because despite their age difference and her unknown crush on Aaron, it isn't long before they are both determined to make the relationship work.
Author Mia Madison
What happens when a man whose best friend's sister turns from a geeky kid-sister type to a beautiful woman ends up spending a lot of time with said woman? This is Parker's dilemma. He has never seen Lanie as anyone other than his best friend's geeky little sister, but when they find themselves alone in Europe in one of the most beautiful countries in the world, spending almost every waking moment together, things start to change. Although Parker tries to stay away, Lanie makes sure he knows that she, too, has plans for their relationship.
Author Lila Younger
Ava is a young woman whose whole life is ahead of her and who is starting to work in her family's business. She seems to have it made and her future looks bright, but there is one minor problem. His name is James, and he's her dad's friend. James is handsome and ripped, and Ava wants him. He wants her, too, which is why he tried to stay away from her as long as possible. But, now he's back, and both of them will have to figure out a way to hide their feelings for one another – if that's even possible.
Author Tracy Lorraine
Daniel is a man who loves his one-night stands and has no intention of settling down. That is, until he meets Beth. Beth has recently had her heart broken so she is both young and vulnerable, but when she meets a much-older man she starts to feel like she is finally able to get back into the game. Even though Daniel is attracted to her, he still has no intention of changing his lifestyle and accepting commitment, but how long will that last once their relationship starts moving forward?
Author Mia Madison
Reid is a single dad with five-year-old twins who needs a babysitter. When his friend's daughter, Holly, finds herself in need of a job, Reid hires her immediately, but at what cost? Even though he knows Holly is off limits, Reid still wants her – as more than just a babysitter. When he realizes he's going to see her every day, how can he resist telling her how he feels? But, he has to hide that fact, at least until he discovers that she feels the same way.
Let Me Taste You
Author Honey Love
When Raquel gets stood up by a date – a date she didn't even want – she is nonetheless devastated. When another patron in the restaurant sees that she's upset, he walks over to her so he can maybe make her smile. But, what happens next will make you think that this stand up was meant to be. Kenny is attracted to Raquel as soon as he meets her, and despite their age difference, he pursues a relationship with her because this is one fire that only she can extinguish.
Breaking Rules
Author Mia Ford
When Payne's best friend's daughter, Vienna, starts working for him, he considers it just a favor for a good friend, but soon his feelings towards Vie multiply and he wants her for more than just typing and filing. Vie wants him, too, because she still has her V-card and is looking for someone familiar to break her in. Both seem to be getting what they want out of the relationship – that is, as long as they can keep it silent so that Vie's father doesn't find out.
Author Jamie Knight
Bradley has recently been discharged from the military due to an injury, and he is living with his commanding officer while getting back on his feet. The problem? The man's daughter also lives there, and she is sweet, terribly sexy, and good at getting Bradley's attention quickly. While his friend is out of town and he's alone with Natalia, she asks him if he'd like to take a swim with her. After that, all bets are off, and they finally succumb to their feelings with the most interesting of results.
The Virgin's Dance
Author Michelle Love
Pilot, a photographer, and Boh, a ballet dancer in New York City, both have complicated pasts, but once they meet they're inseparable. Never mind that he is twice her age, because the chemistry between them is unmistakable. There is a lot of intrigue, hot passion, and even angst in their story as it develops, and since each of them has a past that could destroy their future together, the story will have the reader guessing up to the very end.
Author Arlo Arrow
Jasmine has a great job that she loves, and Gabe is her boss. The first time they get together, the passion is unbelievable, but since Gabe's dad left the business in shambles, he has a lot to worry about besides a brand new relationship. Besides, Gabe is used to getting what he wants, and he is definitely a love-'em-and-leave-'em type. Once he meets Jasmine, though, he starts to wonder if that is the best way to live. A great love story with twists and turns you won't expect.
Make Me Crazy
Author Adele Hart
When a sexy, but anti-commitment pilot and an uptight magazine editor get stranded on an island together, the unexpected is bound to happen. This is Mac and Paige's predicament, and all she wanted to do was get to her sister's wedding on time. Now, she is stuck until someone comes and rescues them, leaving her with nothing to do except stare at this gorgeous man, and wonder if they have a chance together when there are so many differences between them.
Author Flora Ferrari
Cash is a billionaire who always thought money could cure anything, until he finds himself a parent of a baby boy. He quickly hires Mary to be the nanny, but it isn't long before he finds her attractive and wants her in the bedroom as well. This isn't exactly Mary's dream job, but she quickly falls in love with both the baby and his gorgeous father, even though the latter is starting to think it is too late to get a bite out of this apple.
Dangerous Curves Ahead
Author Honey Love
DeVante is a "most eligible bachelor" in Atlanta, and because of his wealth he can have any woman he wants. The problem is, the only woman he wants right now doesn't want him. Her name is Averie, and he is her client at the agency where she works. Averie does want DeVante, but she knows that if she has a relationship with a client, it could ruin both the account and her career. But, how much longer can she pretend to resist him, when he is giving her signs that this relationship could possibly work?
Author Kelli Callahan
Charlotte was once a student in Mr. King's class, and even though she wanted him bad back then, she realized there was no way a student-teacher relationship was ever going to work. Three years later, Mr. King is a single dad with no clue how Charlotte used to feel about him. The last thing he's looking for at this point in his life is a relationship, but why is it that he can't get his mind off of Charlotte when she comes back into his life? And how long can he resist her?
Author Nicole Casey
Evan is a friend of Vyolet's father, and when they meet up for the first time in a long time, he is surprised to find out how much she's grown. Vyolet has always obeyed the rules and done what she's supposed to do, but when she sees Evan all she can think of is how to get him into bed with her. With a lot on the line, their relationship may not stand a chance, but they are both willing to give at least the physical side of the relationship a try. After all, that part is the fun part.
Make Me Wet
Author Adele Hart
When businessman, Asa, boards a cruise ship for a little well deserved time off, he doesn't expect to run into a gorgeous woman who becomes his obsession, but that's what he finds in Libby. Libby is the "plus one" on this vacation that is her sister's working vacation, and she is looking to spend most of her time in the library. That all changes when she meets Asa, and if you're in the mood for a little guilty pleasure, this book is for you. It is filled with hot, sexy pleasures, and it is one tale you will never forget.
Scream Come True
Author Honey Love
Pierre has been around for centuries because he is a vampire, but Adele doesn't know that. They create sparks every time they get together, and their chemistry is a one-of-a-kind find. But, eventually, Adele learns the truth about Pierre. Pierre thinks she is the best thing that has ever happened to him and wants her to be a permanent part of his life. But, what will Adele do now that she knows who he is? Will she stay with him, or is this the end of their story?
Author Penny Wylder
Cora is barely 18 years old and an intern working at Michael's company. The problem is, she is also the daughter of his friend and co-worker. Their relationship heats up quickly, but they both realize how important it is to keep it hidden – at least for now. This is one love story you will never forget, with twists and turns you won't see coming and characters you'll fall in love with from the very start.
Author Honey Love
Ashley and James meet in Vegas, where everything stays hidden and is considered only temporary. At least that's the way it's supposed to work. When their week in Vegas is up, the couple thinks that is the end of their relationship, but like many other things in life, the unexpected happens instead. A good, lust-filled, no-cheating story with characters you'll love and lots of hot, steamy sex.
Hard Chemistry
Author L.D. Fox
Jason is an upstanding college professor with a problem. Her name is Wine, and she is 20 years younger than he is. She's always making his life hell. When he decides to fight off her advances, he finds it much more difficult than he'd imagined. Meanwhile, he discovers that a colleague at the university where he teaches also has the hots for him, so what's a man to do? He wonders if it's something in the water, but he isn't exactly unenthusiastic about the situation he is now in.
Author Lila Younger
When Emilia joins her friend Renee for a night on the town before a vacation from college, she ends up in bed with Nate, a much older, very handsome, and sexy man. When she gets to her friend's home and goes into the kitchen for breakfast, she finds out that Nate is actually her friend's father. Now what is she supposed to do? Their chemistry is undeniable, and they both know this relationship is wrong, but they simply cannot keep their hands off of one another. How will it all end?
Author Arlo Arrow
When Grant, a wealthy businessman, hires Sophia to be his fake fiancée for one week, she jumps at the chance to be with him. After all, he's paying her $25,000 for the task and besides, she's in love with him anyway. What she doesn't know is that he's been attracted to her for a long time as well, so this will be one heck of a week, regardless of how it ends.