Is there anything sexier than a man who's good with his hands?
Mountain men seem to know just what they're doing with their touch, whether it's building furniture, tending to their land, or pleasuring a woman.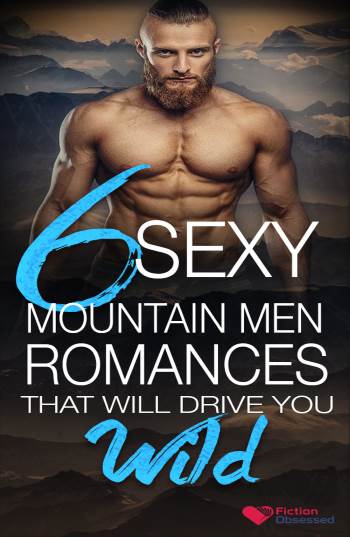 SaveSave
I'm a total sucker for their beards, tattoos, and buff bods.
If you love stories about sweet and sexy men of the mountains that take place in snowed-in cabins and small towns, you'll love the following mountain man romance novels.
See our newest picks for the month in the chart below:
My Top 6 Best Mountain Man Romance Novels
Mountain Man (The Smith Brothers Book 1) by Sherilee Gray
When Birdie Winters goes for a hike with a group from her new town, she's hoping to make friends. After a life of living like a vagabond with her mother, she's now on her own trying to adjust in a new town.
The hike takes a terrible turn when she gets separated from her group and sprains her ankle. To add to her nightmare, a monstrous blizzard hits.
Hank Smith is accustomed to living a life of solitude. He's a grizzly mountain man who knows how to use his hands. He comes across Birdie, unconscious in the snow. He effortlessly scoops her into his strong arms and carries her to safety.
They arrive at his cabin, and Birdie is shocked to wake up to the sexy naked man who saved her life.
There's an instant attraction between Birdie and her burly savior. They're trapped due to the snow, but that doesn't stop the heat!
Hank lusts for Birdie, but he's uncomfortable. He's out of his element. He's only been with one woman before Birdie, and he's embarrassed about his lack of experience and his uncontrollable desire.
Birdie is gorgeous, kind, and caring. She'll learn that Hank himself is sweet and gentle, despite his intimidating stature. Will she be able to unleash the shy man's inner beast? And after that, will she be able to leave her deliciously dirty man?
She can't resist the idea of making herself at home, for once, with Hank in his cozy cabin.
If you like
sensitive alphas with a gruff exterior
and heroines that bring out the hero's inner confidence
then you have to get a copy of this book!
My favorite part of this story is the character development. At first, Hank comes off like a rough and tough macho man. His rock hard abs and towering stature definitely contribute to that.
I would scream just like Birdie if I woke up to a naked stranger like that standing over me! But, as the story develops, we see that Hank is not just a grizzly mountain man but a loving, caring, sweet hero.
Getting to see how he starts to reveal this side of himself to Birdie is such a sweet treat. The two have fantastic chemistry. There's no shortage of lust and intimacy in this short but steamy tale.
AMAZON >>
Stranded: A Mountain Man Romance by Piper Sullivan
Lena is small, feisty, a chef, and a virgin. She grew up rich, but isn't your typical rich girl. She is extremely driven and hardworking. She's determined to open up her own restaurant in her hometown, where her family has a mansion. Thinking the mansion would be the perfect location for her new restaurant, she asks her dad. He tells her she needs to talk to her ex-stepbrother, Rex.
Lena is furious, and decides to make a visit to Rex. The only thing is, Rex lives in a cabin the mountains. He's a reclusive craftsman, known to be a bit of a jerk as well, who makes a living by selling handmade furniture to the wealthy.
Ignoring a blizzard, Lena drives to Rex's cabin. There was always a bit of a spark between Lena and Rex. As soon as they see each other again, that spark explodes into a fully raging fire.
Because of the snow, Lena ends up stranded in his cabin with him. She's hungry with desire, as is Rex.
Their mutual childhood crush has developed into full blown lust, and all of their wildest fantasies have a chance to become reality. But it's not just all dreams come true. The two aren't sure at all times what it is they want and what they're ready for.
They take turns wanting each other and detesting each other. At times, it seems hard to tell what their fate will be. The only thing certain is that they can't keep their hands off of each other.
If you like
virgin heroines
sexy alpha jerks
and second chance romance
then get stranded with this book!
The best part of this story is the love/hate relationship between the hero and the heroine. They've know each other since Lena was 17 and Rex was 25, when their parents were married.
Now, their parents are divorced, and they've grown up and gone their separate ways. It's thrilling to get to see the two get together and address feelings they've never spoken about to each other.
After years of not seeing each other, it's like the whole time leading up to their reunion there was sexual desire slowly burning.
By the time they get together, it's hot as hell! It's so steamy. Plus, Rex is known to be good with his hands, so you'll have to read to find out for yourself what this hunky mountain man can do.
AMAZON >>
Mountain Man's Baby Plan by Nikki Chase
Sofia is back in her hometown where she's haunted my memories of her past, including the ghost of a relationship that left her heartbroken.
Eli and Sofia were mean to be, or so she thought, until the day he shattered her heart. Now, 12 years later, she's back to the same place where it all went down.
Seeing Eli again takes her breath away. The rugged gorgeous mountain man stands tall and broad-shouldered with intense eyes that make her melt all over again. Sofia knows better than to get involved with the man who once hurt her so badly.
One day, she's a few miles out of town when her car breaks down. Lo and behold, she ends up stranded in the cold in front of Eli's cabin, a place where they used to make memories and make love. She decides it's too cold to stay outside, so she lets herself into the empty cabin where she strips down and warms up in front of the raging fire.
Sure enough, Eli enters and finds his ex in the nude. The chemistry between the two makes it seem like no time has passed at all and no hearts were ever broken. The raw sexual energy of Eli makes Sofia weak in the knees, but she knows better than to get involved.
They can't resist each other, and she wants to climb him like a tree. They're stranded now by a snow storm, and they'll have each other to stay warm. Sofia doesn't want to get her heartbroken again, no matter how good Eli's hands feel. She can't help but submit, knowing her heart is on the line. She has secrets, too, that she's sure would make Eli leave her again.
Eli is nervous that Sofia doesn't want him after all of these years, and Sofia is also worried that he can't possibly have feelings for her beyond physical desire. Will these two be able to overcome their obstacles, fears, and demons from the past to have a happily ever after?
If you love
second chance romance
dominant alphas
and submissive heroines
then you have to get yourself a copy of this book A.S.A.P.!
I'm a sucker for a second chance romance. When Sofia was 17 and Eli was 25, they had their first chance at true love. For reasons not fully disclosed to Sofia, Eli had to end things.
It feels like he never really stopped loving her. Now, they're adults who have grown a lot since their relationship. This book was beautifully written and full of wonderful descriptive storytelling.
Also, be warned: this story is incredibly sexy, filled to the brim with lust, desire, and naughty behavior. You're sure to melt.
Big Man By Penny Wylder
Sasha Bluebell is a city girl with small town roots. She's worked hard to make a comfortable life for herself in the city while leaving her hometown in the past. When her mother passes, Sasha must return home to settle her estate and restore it to what it used to be.
There's only one problem, and his name is Grant Werther.
He and his father co-own half of the land now, and they don't want to let Sasha restore it. Sasha can't help but notice that Grant, who was once a scrawny twig of a boy and childhood best friends with Sasha, has grown up.
He's huge, ripped, and incredibly sexy, but rather cocky. Despite his arrogance, she imagines what it would be like to have his muscular arms wrapped around her. He's also incredibly handsome with a beard that Sasha finds so sexy.
There's palpable chemistry between this city girl and the mountain man. There are sparks, fireworks, and everything in between, but the two desperately try to cover up their actual feelings for each other.
That won't stop them from getting down and dirty in the sheets. But between the sweltering hot hook-ups, will they be able to to address the very real feelings they have for each other? Sasha knows she's back in town just to settle her mother's estate with plans to head back to the city.
It seems now there's something, or someone, compelling her to remain at home, where life is simpler. Will the two be able to work out the details of the estate? Will they be able to work out their relationship and see all of its beautiful potential?
Read to discover what happens, especially if you're a fan of
romances where friends become lovers
small town romance
and sexy dominant alphas
I love the story being told. Two childhood friends who didn't address their feelings in the past now get a second chance to work it all out.
But, they've grown apart, and they've grown as people. At the end of the day, there's an attraction that never fizzled out throughout the years, and from that, they are able to build a beautifully sweet relationship.
Grant absolutely made me swoon. His beards, his tattoos, and his ripped bod are all to die for. This book is hotter than fire and a pleasant, light read!
AMAZON >>
Mountain Lumberjack by Sienna Chance
Lilian is a hardworking lawyer who wants to move up in her firm. Unfortunately, her boss is the scum of the earth. Michael always makes moves on Lilian, making her feel terrible by coming onto her sexually. He insists on calling her "Lily" when she's requested he only call her Lilian.
When there's an opportunity for Lilian to go on a company retreat in Colorado, she knows she has to make the trip if she wants to get promoted.
Enter Logan. He's the owner of the lodge resort where the company is staying. He's also an incredibly sexy lumberjack with a rock solid bod and protective instincts. He notices Michael is harassing Lilian, and when Michael tries to trap Lilian out on the patio to make a movie, Logan comes to the rescue.
He pretends to be an old friend of Lilian to interrupt their conversation and free Lilian from Michael's presence. She's incredibly grateful for the intervention, and can't help but feel butterflies in her stomach thinking about her hunky savior.
When Michael tells Logan to back off the next day, Logan pretends that he and Lilian once dated and never "officially" broke up. Lilian and Logan plot to pretend to date to keep Michael away.
Things at the resort start to get weird, with suspicious events occurring at every turn. Suspicions arise that Logan could be responsible. With the influx of strange and mysterious events at the resort, Logan and Lillian are determined to figure out what's going on.
Meanwhile, the sparks are flying between the fake couple. There's enough sexual tension to blow the roof off of the resort. Will Lilian and Logan's relationship be able to survive through all the drama, mystery, lies, and danger?
If you're a fan of
protective alpha heroes
mystery and suspense
and stories packed with drama
you'll be a fan of this book!
This book is a page-turner. There's so many compelling elements of the story that make it nearly impossible to put down. There's a mysterious death, and anyone could be responsible.
Without revealing too much, there's even more drama when another character is almost killed. This tale is a thrilling mystery that features well-developed characters who you'll be rooting for from beginning to end.
Logan and Lilian have a hot and heavy connection, and the sex is out of this world. It's just as steamy as it as suspenseful!
AMAZON >>
Claimed By The Mountain Man by Frankie Love
Everly is a 22 year old college graduate with an English degree and a load of student loan debt. She's down on her luck, without family and without a job.
Drunkenly, she and her friends decide to sign up for a mail-order bride site. She gets matched to a man in Alaska where she will make herself at home as a wife.
His name is Silas, and he's incredibly sexy. Plus, he's rich and going to pay off Everly's student loans. She'll keep his bed warm and take care of the wifely duties, and he'll provide for her.
It seems like a win-win, except neither of them know what to expect from each other. Everly has never even dated before. She hasn't had sex, either. Silas is a crude man at first, though devastatingly handsome and buff, and their personalities definitely clash.
Silas lives a reclusive life in the Alaskan wilderness, and he's not quite sure how to live with a woman for the first time ever.  Everly is a handful, not the woman he was expecting, but he's determined to care for her and especially determined to show her pleasure like she's never known.
Silas is a man who who knows exactly what he wants and is very set in his ways. Everly is an innocent virgin who is feeling lost after graduation and could use some direction. They come from different worlds, but that doesn't inhibit the explosive chemistry between the two. In order for their relationship to develop, they'll have to overcome challenges as individuals and a couple.
Will the young virgin and the grizzly mountain man live happily ever after as husband and wife?
If you like stories that include
mail order brides
virgin heroines
and sexy dominant alphas
then this is the book for you.
This story shines because of how well-written it is. It's completely captivating and impossible to stop reading. I was hooked at the get-go by the premise–a young girl down on her luck who decides to stop the job hunt, drop everything, and move to Alaska for a husband that'll take care of her. This sets up the story in a way that gives the readers a lot to look forward to.
How will they get along? Will there instant attraction, or will their relationship need time to grow? Plus, a virgin heroine with a grizzly, dominant mountain man makes for scorching hot scenes in the bedroom.
AMAZON >>
What's your favorite?
Was your heart captured by a strong and sexy mountain man? There's certainly no shortage of beards, tattoos, and rock hard bods. Which book is your favorite? Let me know in the comments!