Alright. The truth is out. I'm totally hooked on gay paranormal romances.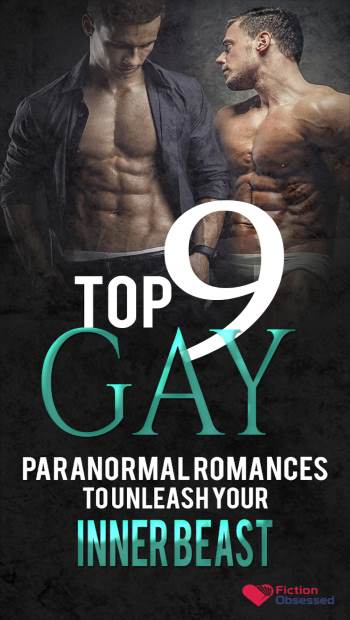 SaveSave
From wolves, to vampires, to pregnant men; there's no shortage of fantasy to fulfill your inner-most desires.
See our newest picks for the month in the chart below:
Here are my 9 best gay romance novels that exist in a paranormal world of alphas, omegas, shifters, and vampires:
1. Mating the Omega by Ann-Katrin Byrde
When omega wolf Jason's father gets severely injured, it's time for him to stop running. Jason's run so far for so long with his family by his side. He's running from violence and a fate he does not accept: mating with the awful alpha of his pack. The only wise thing to do is what terrifies him most: deliver himself to an alpha. He's fortunate enough to be able to cut a deal to mate with the alpha of the country's wealthiest pack. Little does he know, this plan would change the course of his life forever.
Enter Mac, the (incredibly handsome) head of security for the rich alpha, who catches Jason when the young omega shifter is scaling the walls of the Mercy Hills Pack enclave. Mac can't help but fall deeply for him, a feeling that develops into a whirlwind romance between Jason and Mac. Before long, Mac and Jason are mated and with child. This is just the very beginning of their journey together, as Jason's old pack has some unfinished business.
This story is ideal if you like:
Shifter romance
And mpregs
My favorite part of the book is the world it's set in, which is unique for the shifter genre. In this world, humans know that shifters exist, which helps drive the story forward. There's a sort of hierarchy that is present which is essential to the plot. Additionally, Jason isn't your typical omega. He has a bit of feistiness to him, which is part of what draws Mac to him in the first place. Overall, this book is well-written with humor sprinkled throughout, making it an enjoyable and steamy tale that will keep you wanting more.
AMAZON >>
2. A New Chapter by Aiden Bates
Omega Myrick Thomas has worked hard for his personal success, paving his way to become CEO of his own company. No amount of success, however, can alleviate his loneliness. Plus, being an omega means he lives in a constant state of paranoia, fearful of being used for his body's capabilities. The reclusive Myrick feels electricity jolt through every fiber of his being when he meets the new Vice President, Tristan Chefant.
Tristan is a sexy alpha billionaire who may be the key to bringing Myrick out his reclusive state. Despite Myrick's crippling trust issues, the two have instant chemistry. They're both driven, passionate, and strong. There's also no shortage of personal baggage for the duo, including alphas and omegas from the past. The two begin a romantic journey together as they navigate a world filled to the brim with societal expectations of how alphas and omegas should be. Is their love strong enough to defeat their demons?
Read to find out how it plays, especially if you like:
Mpregs
Billionaire romances
And intense erotica
The best part about this story is the atypical dynamic between the alpha and the omega. It's not common to find an alpha who doesn't just answer to an omega, but also doesn't try to use his alpha-ness to disrespect or overpower the omega.
This imaginative story bends the genre a bit, introducing a new type of omega/alpha relationship that keeps the story fresh and exciting. Oh, and speaking of excitement, the sex scenes in this story are absolutely erotic. You'll have to pause just to catch your breath and cool down. But don't pause for too long–this one's a page turner.
AMAZON >>
3. Until Forever Comes: (Mates Collection) by Cardeno C.
Ethan Abbatt is a sensitive, sweet wolf shifter who just can't seem to shift. Miguel Rodriguez is a savage vampire who has been alive for over 400 years. Together, they're the couple of a lifetime. That is, if they have a lifetime together ahead of them.
The circumstances under which they meet are certainly less-than-romantic, as Ethan and his pack are planning a vampire attack. Ethan is ready to leave this world, and he plans to die righteously with his pack by his side during the attack. It's then that two crucial moments happen for Ethan. First of all, he is finally is able to shift. It's the draw of blood that gives him a sweet release of pent-up pain and the beast within. Secondly, he finds that their targeted victim is his mate.
Despite Miguel's initial resistance to Ethan, the two find they can't avoid their feelings for each other, no matter the danger. Miguel even attempts to send Ethan away. Out of sight, out of mind, right? His plan doesn't work, of course, because the two are destined to be together.
There's no keeping them apart–especially physically. This story is filled to capacity with sizzling sex, driven by animalistic lust for each other. Keeping themselves alive proves to be the biggest obstacle in the way of these two having a happily ever after.
If you like:
Shifters,
Vampires,
And forced bonding/mating
…you have to read this book.
A vampire/wolf shifter couple is the couple I didn't even know I needed. The characters are so loveable–the dark, brooding Miguel and the quirky, sweet Ethan. When you take the fantastical elements of vampire romance and mix in the world of shifter romance, you get an addicting story filled with love, passion, and magical details. This love story defies time, history, and societal expectations of vampires and wolves both as individuals and mates.
AMAZON >>
4. Auctioned Omega (Mount Liberty Pack Book 1) by Kellan Larkin
When omega Briar is forced into an auction to be won by the best fighter of the rival pack, he's terrified. Even scarier is when he sees the alpha who won him. His name is Rohan, and he's bloodthirsty and vicious. Well, that's how Briar sees him until he gets to know him. As Briar soon realizes, his judgement of Rohan missed the mark. The alpha is not a cruel monster but the mate Briar has been waiting for, and he begins to fall madly in love with the sexy Rohan.
Rohan must learn to be gentle and patient with Briar to earn his trust. There's a connection between the two that is powerful, romantic, and hotter than hot. Their union is threatened, however, as the two must make a run from their past to have a future of bliss together. Oh, and one more thing: Briar finds out he's pregnant. The two will have to love, support, and protect each other as they learn the strength of their love and their ability to defy obstacles together.
This book features:
…So if that's your cup of tea, I'd highly recommend you get a copy of this book A.S.A.P.
My favorite part of this book is the connection between the two characters. While it is an alpha/omega story, omega Briar is definitely not lacking his own strength and guts. Both Briar and Rohan can carry their own, and together they make an unstoppable force. This page-turner oozes with romance, heat, and plenty of action.
AMAZON >>
5. The Omega's Secret Pregnancy (Men of Meadowfall Book 1) by Anna Wineheart
When omega Felix ran away from his hometown five years ago, he never expected to return. It was never part of his plan. He was fleeing from a haunting past filled with lies and a 15 year relationship that ended when he rejected his alpha's proposal. Now that he's broke, he's forced to return home so he can save up enough money to continue to his life as a runaway.
What Felix doesn't expect is to go into heat when he reunites with his ex-lover, Kade. Kade, a poor programmer who was never rich enough for Felix, was left heartbroken 5 years ago when Felix fled. There are some flames, however, that can never be extinguished. The two spend a sizzling hot night of passion together, leading to Felix's pregnancy.
Felix begins to fall for Kade, who can't possibly want him or this baby in his life after all the hurt that Felix has caused him in the past. This omega/alpha pairing, however, can't deny themselves a second chance at love. Their feelings for each other are too strong, and they've lasted through so many trials and tribulations. Will the lovers finally have a happy ending?
Read to find out, especially if you like:
Mpregs
Stories with second chances
The best part of this book is how scorching hot it is! It's slow-burning romance with a spectacular buildup of sexual tension that keeps me hooked. Their pining for each other mirrors my pining for them to get together and live happily ever after. This book is exploding with erotic scenes that'll make your toes curl.
AMAZON >>
6. Alpha's Bite: A Wolf Shifter Mpreg Romance by Preston Walker
Dallas and Roman need each other in ways they could've never imagined. Dallas never believed in werewolves like Roman until an event in Central Park that changed everything. There's an attack that turns Dallas into a creature he wasn't even sure existed. Roman's got issues of his own. He wants to become the alpha of his Manhattan pack, but he can't without an heir.
Roman's guilt about the Central Park attack leads him to protect the new wolf, Dallas. There's something about Dallas that Roman will learn that could change their futures forever. Dallas is an omega. Will their love be strong enough to allow Roman to become alpha in time? Can they overcome their challenges while Dallas navigates his new life in his ever-changing physical form?
Settle down with this book to come along for a journey packed with action, adventure, passion, and pages of erotic sex to keep you hooked and thirsting for more.
If you like:
Mpregs
Shifter romance
And alpha romance
…then do yourself a favor and read this book!
I love how this story conveys a variety of emotions and isn't just a happy-go-lucky love story. While there is plenty of love to go around, there's also pain, sadness, darkness, fear, and a ton of action. Seeing our protagonists experience not just happiness and romance but more complicated, more difficult emotions makes them even realer.
I felt so connected to both Roman and Dallas, and I rooted for them throughout their story. A story with such emotionally dynamic characters leads to intense gratification when they are together. This book is more than satisfying both sexually and as a riveting story.
AMAZON >>
7. Omega's Submission (Foxes of Scarlet Peak Book 1) by Aspen Grey
Kitchi is an alpha fox shifter who exemplifies what being an alpha is all about. He's a strong and fierce leader, despite the personal trauma he's faced. Coming from a broken family and being at a phase in his life where everyone around him seems to be mating and starting happy families of their own, Kitchi is down in the dumps.
He follows a beta to a brothel, hoping for a quick fix to help him out of his slump. Little does he know, this will lead him to his mate, a connection he once thought was impossible.
Toby is an omega with family issues of his own. He doesn't believe in love and works at a brothel to make ends meet. His interactions with partners are merely transactions. That is, until Kitchi catches Toby's scent and realizes they are destined to be together.
Kitchi plans to take Toby from the brothel and prove to him that his love is irrevocable. The two will begin their story together, a story of love, healing, and trust.
If you're a fan of:
Fox shifters
Mpregs
And BDSM
…then you have to read this page-turner immediately!
I love how hot this book is. I fell for the characters instantly. Toby is so sweet and lovable, and Kitchi is sexy and dominant. When you bring these two together in bed, the sexiest type of chaos ensues. This book contains BDSM, which is not only hotter than fire itself but totally the right choice for this story of an alpha trying to win over and tame his omega.
AMAZON >>
8. Deliver Me by Aiden Bates
Carter is an omega obstetrician who works at Silver Oak Medical Center. He is a career man, dedicated to his patients and his practice. He's outwardly loving, but he's also lonely. It also doesn't help that he's getting old for an omega. He did have a partner for a while, but that relationship is over, at least romantically.
His partner ended up mating with a young omega in his prime. When he goes into labor, it is Carter who ends up delivering their children. Yeah, not the best way to find out your ex is doing better than you! It only gets more complicated for the sexy, smart doctor when his hospital is bought by a new company, and he meets his new CEO, Finn.
Finn is handsome, domineering, and known for coming off cold as ice. His outward coldness is hugely unappealing to Carter, who is a sensitive and loving character. Both men are headstrong and set in their ways. Their arguments over patient care become heated, and so does their relationship. The thermostat is turned all the way up for these two, leading to a night of explosive passion in the sheets.
That fateful night, however, begins a journey saturated not only with fiery love but tragedy and pain. There's pregnancy, there's undying love, and there's a threat to the future family they are building. Can they overcome the trials and tribulations in their way to show that their love conquers all?
If you're into:
…get a hold of this book now. Right now!
My favorite part of this story are how the two men both are a good match for each other. It seems like the stars aligned for these two. Finn may have the outwardly harsh vibe at first, but as we read we come to learn that both men are so strong-willed that it even leads to a public shouting match.
Both men are sexy, intelligent, and confident. When they finally get together, the fireworks explode. There's nothing sexier than a healthy dose of tension build-up and finally giving into temptation!
AMAZON >>
9. Archangel's Assassin by Barbara Elsborg
Terminating evil supernatural creatures who break the law isn't an easy job, but someone has to do it. That someone is the dark and handsome West, a sexy assassin who is responsible for upholding justice in the name of his boss, the archangel Raphael.
The job is only for the toughest of the tough, not just because of the perilous situations but because West must absorb his victim's memories. West has a side job, too, that he keeps secret from Raphael. He's determined to save his brother from Hell, which is quite a risk considering that he could end up landing himself there for eternity if caught.
Tao is a young and scruffy man who wakes up in a park completely devoid of his memories. He doesn't know anything about who he is. He doesn't know if he has anyone looking for him. He lives as a beggar who earns his money by spending his days on the streets. Sometimes, he takes risky unethical attempts to make his money.
It's during one of these schemes involving a pick-pocketing that Tao meets West. They sit down for a cup of coffee, and the attraction is immediate. But then, a voice within tells Tao to ditch the date, pronto. West is surprised that Tao leaves. There's a spark between them, and West knows it can't just be one-sided.
When West tracks down Tao, he finds him badly beaten and in need of rescue. West is more than willing to protect and care for Tao, but is wanting to protect someone enough to actually save them? Tao and West's love story unfolds in a dark, gritty, yet heartwarming and erotic tale of secrets and tragedy. Is it possible that Tao isn't as human as he believes himself to be?
If you like:
Demons/Devils
Angels
Protective alphas
…then you'll want to grab a copy of this book.
The best part of this story is how it tugs on your heartstrings. Without giving too much away, know that this is an emotional journey that will have you feeling for the characters in ways you don't anticipate. There's a point where I just couldn't stop the tears from flowing.
Don't get me wrong, though, it's not all gloomy; it's has its uplifting moments and is humorous, engaging, passionate, and super sexy. The sparks between Tao and West develop into a full blown fire, filling the pages of this story with steamy scenes and erotic pleasures.
AMAZON >>
What's Your Favorite?
Vampires, wolves, and demons–oh, my! There's a little something for everyone in the world of paranormal gay romance.
Comment your favorite, and let me know what fulfilled your wildest fantasies!