Looking for some of the best fantasy romance novels to read?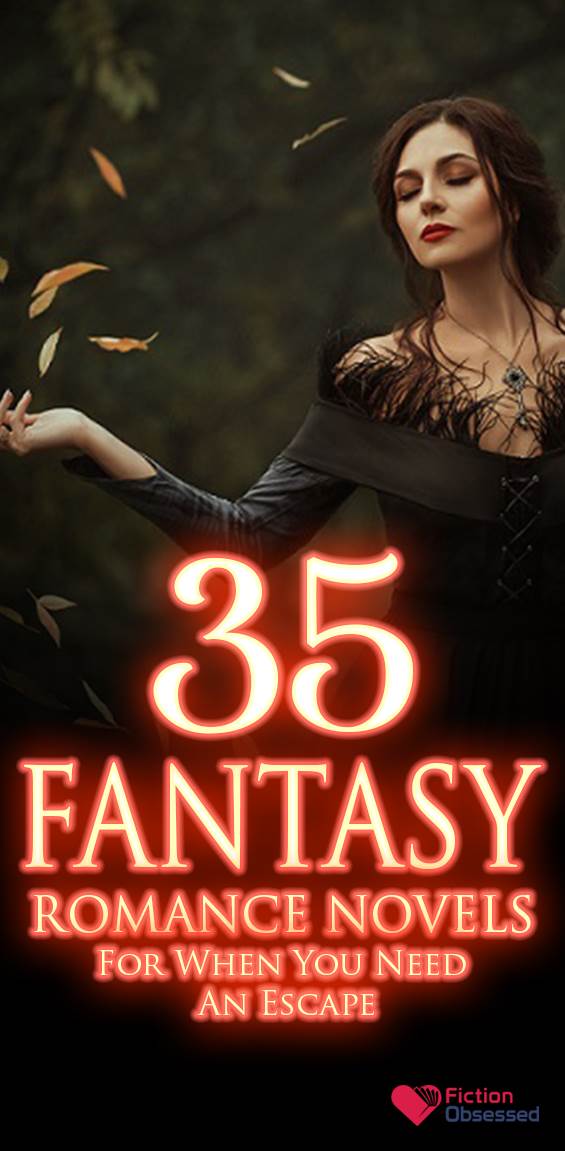 You're going to love these books…
See our newest picks for the month in the chart below:
Author Erin Morgenstern
When a circus sets up overnight in an unsuspecting town and is only open at night, the townspeople are bewildered but there is something even odder going on inside of the tent. Celia and Marco, two magicians, are vying for the same job because the circus only needs one in the end. But, when they start to fall in love, things get complicated and even a little bit dangerous. With the stakes higher than they were expecting, neither of them knows how the story will end.
Author J.R. Ward
Sola is an ex-thief who has turned over a new leaf and now lives far from her hometown of Caldwell. Although she is a human, a vampire named Assail is in love with her so when Assail falls into a coma and Sola is asked to help, she has mixed feelings about the request. But, with a lethal new enemy on the scene, Sola finds herself the target of evil forces and in a war that she doesn't understand. Will she run from this horror or stay with the only man who she ever felt she could truly love?
Author Ilona Andrews
Hugh is a weakened leader who needs a place for his followers to call their new home and Elara is a creature looking to protect her own people. They realize that the best course of action would be to create an alliance but they both have the reputation of betraying their allies and are suspicious of one another. Elara is willing to work with the devil to get what she wants and Hugh might easily qualify for that position. Enjoy the story of these two and their apocalyptic tale that will keep you guessing.
Author Michael Poore
This is a story of both reincarnation and of love. Milo is given ten thousand chances to "get it right" and make it to the cosmic world. Suzie, or Death itself, is his constant companion throughout his lives but in the end all he wants is for his feat to be completed so that he can be with her forever. This story is very imaginative and wild; oddly enough, it is a story that many readers will be able to relate to.
Author Lauren Kate
An exciting and dark romantic story, it tells the story of Luce, who attends a boarding school in Georgia. When she arrives on her first day, she is immediately attracted to Daniel, who is obviously hiding some secrets from the world. Even though he makes it clear that he wants nothing to do with her, Luce is still enamored by the young man and she is determined to find out what his secret is even if it kills her. This is a sexy and fascinating story that you won't soon forget.
Author Lauren Oliver
Samantha is a high-school senior who celebrates February 12, Cupid Day, to the max and then dies in a terrible accident later that evening. But she is confused when she wakes up the next morning only to experience the last day of her life a total of seven times. With each of these days, she finds that by changing just one aspect, she gains tremendous power. It is a story of life and death and how one person's life can greatly affect the lives of those close by.
Author Grace Draven
This is the story of a woman who agrees to be sacrificed year after year so that no other woman has to endure this yearly ritual. But when Azarion, a famous gladiator in the Empire, discovers her true powers, he is intent on making her use those powers to help him escape slavery. In the end, she abandons everything and returns to the Empire in order to protect both her village and her family even if it means that she has to go through that suffering all over again one more time.
Author Charlie N. Holmberg
Ceony has graduated from magic school and is assigned an apprenticeship with someone who teaches her paper magic. Although she was interested in other avenues, she soon learns to love her new craft. But when a dark entity who specializes in dark flesh magic arrives and rips the heart out of Thane, Ceony's instructor, she faces that evil dead-on in order to rescue his still-beating heart and save his very soul. This is an adventurous story that is both dark and whimsical and that will interest readers of all ages.
Author Gail Carriger
Alexia has a lot of challenges in her life: she is a spinster, she was attacked by a vampire, and she has no soul. Thrust into London's high society now filled with vampires coming and going, Alexia kills the vampire who attacks her and has to deal with even more challenges, including a gorgeous but loud werewolf named Lord Maccon who she can't help but notice. In the end, it is her task to find out who the real enemy is but that may not be as clear as she was hoping it to be.
Author Maisey Yates
This tale of forbidden love is scrumptious from beginning to end. Lindy and Wyatt have always been attracted to one another but the relationship didn't stand a chance because Lindy's husband is Wyatt's good friend. Soon, Lindy finds herself unattached and the two work to finally have a relationship. But they proceed with caution, in part because Lindy now has a winery to take care of even though she is secretly hoping that this particular relationship will be a forever one.
Author Nora Roberts
Mia and Sam once had a passionate relationship but when Sam left her, she decided that she never wanted to see him again. When Sam returns years later, he is determined to win her back, and even though he still makes her heart flutter, she is determined to keep this secret from him. But when she starts to concentrate on breaking a centuries-old curse, she learns that only he can help her so for the time being, they must put aside their differences and work to better the good of their friends and neighbors.
Author John Crowley
Smoky travels to a city that no one knows about in order to marry Alice since it was prophesied that this would happen. This story covers four generations of a family that lives in a house on the edge of the otherworld. It is filled with loss and love, destinies and the impossible, and it reminds everyone that we are all bound together in a magical way. It is a truly epic and magnificent story.
Author Angie Fox
Verity lives with a 1920s ghost who used to be a gangster and now helps her solve mysteries. When a body is found near a pecan orchard, her boyfriend Ellis decides to enlist Verity's help. Just when she thinks that her work is done, pecan pies start arriving at her home with regularity. She then tries to find out who is thanking her — or stalking her — and in the end, she realizes that she will either uncover the answers to her questions or discover that she has run into a recipe for real disaster.
Author Ilona Andrews
Kate and former beast Lord Curran are making their way to the altar but they face some challenges first. Kate's father Roland has been kidnapped and is being bled dry by the demigod who is competing for his powers. To make things worse, a witch oracle has promised that if Kate marries Lord Curran, their town of Atlanta will burn and she will lose him. With a not-so-bright future and seemingly impossible odds, Kate plows ahead anyway, bound and determined to get a happy ending.
Author Karen Marie Moning
When MacKayla travels to Ireland to uncover clues to her sister's murder, she lands in a world that is between the real world and the otherworld and discovers a power she never knew that she had. In the process, she has to battle the ruthless Vlane and a mysterious man named Jericho. She also finds herself needing to find the Dark Book so that in the end, someone with good intentions will gain control of these two worlds.
Author I.T. Lucas
Wonder and Anandur's story continues in this chapter of the Children of the Gods series. Anandur is a goofy but lovable redhead who deserves a happy ending; in this story, he is set up with a beautiful underdog who never expected such good luck. There are still bad guys lurking about and still the potential for disaster but in this book, a beloved character gets the happy ending he deserves. It is a truly inspiring story with characters you will love forever.
Author J.R. Ward
Zsadist is angry and filled with emotional scars that won't heal. When he rescues Bella from the evil Lessening Society, she is soon filled with a desire for this entity. But, even though the desire on both sides is strong, Zsadist finds it difficult to leave his anger and former life behind, in part because he is filled with hate for Bella's abductor. Can Bella's love soothe his soul and make him hers or will his vengeance and hate make him miserable forever?
Author M.H. Soars
When a city girl moves to a small, sleepy town to help her grandmother through an illness, she finds herself still living there two years later. In the process, she was attacked in the woods by a rogue wolf and changed forever. To complicate things further, there is now a rift between the wolves with no one knowing who is good and who is evil. Now three alpha's sons have taken an interest in the young lady and when wolves start disappearing, she has to solve the mystery before the pack becomes nonexistent.
Author N.K. Jemisin
Yeine is summoned to a majestic city named Sky after her mother's death and there she confronts numerous challenges including cousins she never knew she had, her family's blood history, and secrets that define her mother's death. Yeine soon learns that when love and hate and mortals and gods are bound together, it can be a dangerous thing but with the fate of the world in her hands, she works hard to do the right thing in the end.
Author Meg Ripley
Kylie is recuperating from an accident and is being tended to by her brother's best friend Jace, who she's been interested in for quite some time. But her brother Cooper is also Jace's alpha, which complicates things even further. When Kylie and Jace finally succumb to their desires, he regrets the action immediately but later when women start to go missing, Kylie and Jace must forget about their differences and work hard to solve the mystery before another woman is affected.
Author Anne Bishop
Lakeside Courtyard is being ruled by a delicate balance of humans and wolves. Simon and Meg must negotiate that balance to make sure that things remain stable. But, when the shady brother of Lieutenant Montgomery arrives in town, he threatens to wreak havoc on everyone's life. Both the Elders and the humans are on guard and Meg works extra hard to make sure that the cards' prediction doesn't come true because it will mean death for someone important to her.
Author Jennifer Estep
Gin is an assassin and the current queen of the Ashland underworld. When Stuart finds himself the target of an evil force, some of his problems appear to be connected to Gin's. When another blast from the past enters Ashland, it seems that the only thing that this force is interested in is the death of Gin. This is a story of regret and past bad decisions with an ending that no one will be able to predict.
Author Sara C. Roethle
With the devastation and lost hope associated with war, a new era has dawned with everything that is good being threatened by the Faie. All seems hopeless but there are still a few who come forward and continue to fight so that evil will not prevail. In this territory where magic does not always mean death and death does not always mean the end, only two possibilities exist — either loyalty and love will prevail or the evil forces will put an end to innocence once and for all.
Author Karpov Kinrade
When a woman sells her soul to save her dying mother, the decision comes back to haunt her. The continuing relationship between Fen and Arianna is just one of the focuses of this book and the story has an ending that you will never be able to predict. This is an action-packed sequel to the book Vampire Girl and it is a true page-turner filled with suspense, romance, and a lot of twists and turns.
Author Jane Washington
In book 4 of the 5-part Curse of the Gods series, this is the continuing saga of two very different worlds and the people in them who are trying to keep their heads above water. This includes Willa, who is merely trying to stay alive, and the Abcurse Brothers, as well as Staviti, who is doing his best to change the natural order of both worlds. The story is often funny and has an ending that you will be very happy with.
Author Patricia Briggs
Mercy is a car mechanic by day and a shape-shifter at night. She is able to ease tensions between humans and non-humans. When a vampire queen named Marsilia finds out that Mercy slayed a member of her clan, she is out for blood but the sexy alpha in charge of Mercy's pack is determined to protect her at all costs. This is a story that describes witches, vampires, and shape-shifters living beside ordinary people with sometimes unexpected results.
Author C.S. Pacat
Damen's identity has been revealed and he must face his master as Damianos, who his master has promised to kill. With impending war comes the desires of two countries, one in the north and one in the south, who are both determined to win. But in order for Damianos/Damen's side to win, he must work with his master without revealing his identity, which is proving to be more difficult than he originally thought it would be. Part of the Captive Prince Trilogy series, this story has an ending that you're not likely to forget.
Author Christine Feehan
Julian is a golden boy who is also tormented and has a restless soul. When he meets Desari, the woman he is charged with protecting, he is immediately smitten. His heart is softened and she awakens passion in him that he thought was long gone. Desari is definitely a match for Julian but in the end, will she be his savior or will she be the one to drive him mad?
Author Bianca Scardoni
Jemma knows that vampires are real because she witnessed her father being killed by one not long ago. When she moves to Hollow Hills, she hopes that a peaceful life will be hers but the townspeople have their own secrets and she discovers that everything she thought she knew is wrong. In fact, the vampires are still after her even though she isn't aware of this at first. This is a paranormal story rife with twists and turns, many supernatural happenings, and an ending that you won't see coming.
Witches of East End
Author Melissa de la Cruz
Three witches with a powerful secret. An attractive newcomer that makes one of them question her life. And a story filled with romance and mystery. It is also a story filled with mythology, love affairs, witchcraft, and a battle between good and evil. Step inside Cruz's story and be taken away into a world that you thought you knew, starting from the discovery of a dead body that forces the three witches to pick up their wands once more in order to fight the dark forces that are working against them.
Author Dean Koontz
This is the story of a city that consists of some very interesting characters. This includes a young boy who is a musical genius and his equally talented best friend, his unbelievable family, a band of killers who are determined to unleash anarchy, and unlikely allies in the fight against good and evil. This is an intriguing story of magic dark and light and it has the capability to speak to everyone regardless of age or gender.
Author Christine Feehan
Jaxon is a top-notch policewoman who is known for her honesty and competence. But she is also a woman being hunted by a powerful enemy. Oddly enough, when everyone around her seems less than trustworthy, she finds herself trusting a newcomer to her city to help her avoid her fate even though this stranger seems to have more secrets than anyone else. A fabulous story with an ending that you will not soon forget and even a few love scenes thrown in for the reader's enjoyment, this is a tale that you will be endeared to forever.
Author Sherrilyn Kenyon
Demons have infiltrated the city and the worst of them is Vine, who wants to take lives because someone once took hers. Kalder is in Vine's mercy and is overwhelmed in his heart but when Cameron decides to set him free regardless of the costs, she is determined to continue until he is free. But sometimes defeating evil requires more evil and if Vine thinks that she is going to continue her terror without repercussions, she is dead wrong. This is a historical fantasy novel where all souls are either redeemed or damned depending on the choices they make.
Author Gail Carriger
Alexia awakens to find her werewolf husband screaming at the top of his lungs, then he disappears. In the aftermath, she is left to deal with supernatural soldiers, an angry Queen Victoria, and numerous exorcised ghosts. But, when Alexia ends up in Scotland in order to solve this mystery, she is prepared to upend werewolf packs in a way that only the soulless can; if she has time, she might even search for her wayward husband. This is an intriguing and often humorous story filled with vampires, werewolves, and surprises that you never expected.
Author Lois McMaster Bujold
Cazaril is broken in both body and spirit and he finds himself with an assignment that he wants no part of — secretary-tutor to the sister of the man who is next in line to be the ruler. But Cazaril doesn't want to be in the House of Chalion, in part because he must take advantage of some pretty dark magic in order to protect his royal charge. But, in the end, he steps up to the plate and accepts his fate even though he is unsure how it will all end.